Five Activities To Pursue On A Short Getaway To Long Beach
It's a miracle and gift that we're able to travel once again, while things seemed bleak not too long ago. With the weather shifting into a beautiful Fall season for the year, we have the option of exploring wonderful beaches while the sun is still out and shining. If you're visiting Long Beach, CA for a casual weekend away from the daily hustles of life, you've come to the right blog. Today, we're picking out top-five locations that can make this quick visit worth your time and money. This would also be ideal for groups of friends and family who love to spend a relaxed time together. Follow along to know all about them!
Go whale watching: If you're an adventurer at heart and love Californian oceans, there is one thing that should make it to the top of your list. Watching beautiful whales breach the ocean's surface with their younglings is a spectacular display during this season. Apt for families and solo travelers. You can get up close to the action and sign up with a whale watching Long Beach tour operator. A majestic sight to behold, this is an experience everyone must have for a renewed perspective on life!
Visit the antique market: If you love shopping for baubles and memorabilia, the Long Beach Antique Market is the place to be. Buzzing with lively guests and tourists, this area has several shops displaying rare and beautiful pieces of trinkets and artifacts that you can buy as personal keeps or gifts for your people back home!
Check out the Museum of Art: Appreciating the arts and crafts of a location can give you further insight into the local culture. Make some time in your day to visit the Museum of Art in Long Beach, which is home to some stunning pieces of work. This can also be a great place for a photoshoot around the museum appreciating various artists.
Bask in Naples: If you're in love with Italian architecture and cuisines like us, you'll love the quaint little neighborhood of Naples in Long Beach. The area is divided by three canals, which gives it the look and feel of being teleported to Italy. A nice walk on a sunny day is all you need to spend a quiet weekend touring California.
Stay at the Queen Mary ship: Not only is the Queen Mary ship a historical marvel for marine engineering, but is also a luxury stay today. Noted as one of the nation's most famous historic places, you can get a taste of what it is to live in an opulent ship that famous personalities frequented. There are several tours available too, which you can sign up for upon arrival. From suites to luxurious cabins, spend a night here to wine and dine with your loved ones and mark another exciting getaway!
Final Words:
To summarize our above list, you can make wonderful memories in the upcoming weekend with a well-rounded trip that covers all the essentials of a new location. From adventure, art, shopping, and a legacy stay, we've created the perfect trip for you to enjoy some quality time with your loved ones. Now all you need to do is pack your bags and get on the road to kickstart your time unwinding from your busy lives!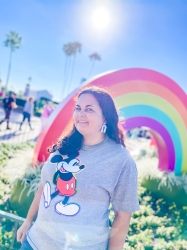 Latest posts by Krystal | Sunny Sweet Days
(see all)