7 Reasons to Plan Your Next Getaway
Everybody deserves a fun getaway from time to time. You might convince yourself that you can hold off a little longer, though, especially if you are trying to save money or you have a lot of work to do. In reality, going away for a while can be the best thing you do for yourself. Whether you want to visit a nearby state or explore a different culture overseas, here are seven reasons to plan your next getaway. 
1: Everyone Needs Enough Sun in Their Life
Many getaways involve those blissful rays. If it is winter where you are, or you just haven't seen some sun in a while, planning a trip to a sunny location can lift both your mood and your health. Plus, you'll come back with a tan! Just be sure to protect your skin with some good quality SPF.
2: It Doesn't Have to Drain Your Bank
Think you can't plan your next getaway because you haven't saved up yet? Think again. There are personal loans that you can apply for that can fund your trip, allowing you to pay the loan back over several years. It means you don't have to wait for your much-needed break.
3: You Haven't Been Away in a While
When was the last time you saw somewhere other than your town? If you haven't been away for a long time, then that is certainly reason enough to book a hotel and browse cheap flights. Even if you can only spare a weekend, you'll be surprised at how much getting away will refresh your brain after so long.
4: The Beach is a Place of Relaxation
If you are a beach-lover, then a getaway to the coast is the perfect option, as it is a place of pure relaxation. Whether you enjoy lounging while getting a tan or swimming in the pure-blue ocean, a trip to the beach will leave you feeling utterly refreshed.
5: Your Kids Need a Treat
For those that have children, you have an extra reason to plan a getaway – because your kids deserve a treat. If you want your children to grow up with tons of fun memories with you, then it's important to not push back planning fun trips out. It doesn't even have to be an expensive getaway; a weekend road trip to your nearest nature park is enough to make everyone happy.
6: There Are So Many Beautiful Locations to Visit
Putting off a getaway means putting off seeing the big wide world. With so much to visit, there's not a moment to lose! Whether you want to soak up some history or visit a natural wonder, be sure to plan your trip soon so you can see as much of the world's beauty as possible.
7: Because You Deserve it!
Do you need any more reason to plan a getaway than simply because you deserve it? Life can be tough, and even the most resilient people need a break from time to time, so book a trip to somewhere beautiful and enjoy your time away from reality.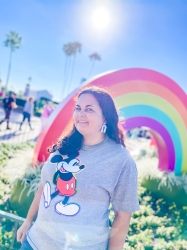 Latest posts by Krystal | Sunny Sweet Days
(see all)