The Major Benefits of Moving to Chicago
Are you considering a move to a new city, but not quite sure where to go? Look no further than Chicago. This bustling metropolis has so much to offer, from its diverse and vibrant culture to its incredible food scene and endless entertainment options. Not to mention, the city has an affordable cost of living and is within close proximity to nature. Here are the top five benefits of moving to Chicago, giving you plenty of reasons to make the move and start exploring this amazing city.
Experience the Culture
Moving to Chicago means immersing yourself in one of the most vibrant and diverse cultures in the world. The city boasts a thriving arts scene with top-notch museums, galleries, and theaters. Take a stroll through the Museum of Contemporary Art or the Art Institute of Chicago, both of which offer free admission on certain days of the week. The city also has a rich history that can be explored at the Chicago History Museum or by taking an architectural boat tour down the Chicago River.
But the culture of Chicago extends beyond the arts. The city is home to a diverse population, resulting in a wide range of ethnic neighborhoods, each with their own unique food, traditions, and festivals. From Little Italy to Pilsen to Chinatown, there is always something new to explore and learn about in Chicago.
Endless Entertainment Options
If you're looking for entertainment, you can't go wrong with Chicago. The city is home to some of the best sports teams in the country, including the Cubs, the White Sox, the Bulls, and the Blackhawks. Catching a game at Wrigley Field or the United Center is an experience unlike any other.
But sports aren't the only form of entertainment in Chicago. The city also has a thriving music scene, with venues like the iconic Metro and the House of Blues hosting top-notch acts. And if you're looking for a laugh, the legendary Second City theater is the place to be.
Incredible Food Scene
Chicago is a food lover's paradise. The city is known for its deep-dish pizza, but that's just the tip of the iceberg. From the classic Chicago-style hot dog to the Italian beef sandwich, the city has no shortage of iconic foods to try.
But the food scene in Chicago extends far beyond the classics. The city has a thriving restaurant scene with everything from Michelin-starred fine dining to food trucks serving up delicious street food. And if you're looking for something sweet, you can't go wrong with a trip to Garrett Popcorn or a slice of Eli's Cheesecake among the other best Chicago places.
Affordable Cost of Living
Compared to other major cities like New York or Los Angeles, Chicago has a relatively affordable cost of living. The city's housing market is competitive, but there are still plenty of affordable options for renters and homebuyers alike. Plus, with a robust public transportation system, you can save money by opting for a monthly transit pass instead of owning a car.
In addition to affordable housing, the city also has a lower overall cost of living than many other major cities. Groceries, utilities, and entertainment are all reasonably priced, making it easier to live comfortably on a budget.
Proximity to Nature
While Chicago is a bustling city, it's also within close proximity to some beautiful natural areas. Lake Michigan is just a stone's throw away, providing residents with beaches, bike trails, and scenic views. And if you're looking for a weekend getaway, you can head to nearby destinations like Wisconsin Dells, Door County, or the Indiana Dunes.
But you don't even need to leave the city to experience nature. Chicago has over 600 parks, including the massive Lincoln Park, which features a zoo, a conservatory, and plenty of green space for picnics and outdoor activities.
Make the Move
Moving to Chicago means immersing yourself in a vibrant and diverse culture with endless entertainment options, incredible food, and affordable living. The city's proximity to nature is just the cherry on top. Whether you're a sports fan, a foodie, or an art lover, there's something for everyone in Chicago. So why not make the move and start exploring all that this amazing city has to offer?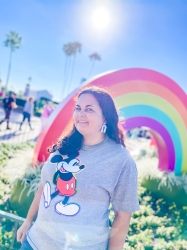 Latest posts by Krystal | Sunny Sweet Days
(see all)