Looking for a Travel Trailer? Here's How to Choose One
Human beings enjoy being in nature and in fact, around 8 million people went camping for the first time in 2021. If you are in the market for a travel trailer but are a bit confused and overwhelmed, you are not alone. We have put together this guide to share everything you need to know so that you can make an informed decision and have fun shopping for your recreational vehicle (RV).
Read on to learn the ins and outs of choosing the best travel trailer for your travel and adventure needs.
Size Matters
One of the first things you need to do is decide what size you want both inside and outside. If you already have a vehicle you plan on towing with, you need to make sure that it has the capability of pulling the travel trailer size you want.
The interior floor plan also needs to fit your needs. If you are traveling with your family, then you might want to opt for enclosed trailers with living quarters that will fit everyone comfortably without feeling too cramped. Also, make sure that the shower or bath are big enough to fit you.
Lifestyle
Something you need to take into consideration while you are shopping is how you plan to use your travel trailer. Do you want to adventure during the winter in cold weather or do you plan on running away from winter with the snowboards for an entire season?
Will the trailer be a getaway for the weekends when you explore national parks or a once-in-a-blue occasion at RV parks? Truly think about how much you plan on using the travel trailer so that you can choose the best option based on how much you will be calling your RV your home away from home.
If you will be using it often, then you probably want to opt for a larger travel trailer that has most or all of your comforts from home.
Look for Damage
Before you buy any travel trailer (new or used) you need to do your homework and thoroughly look for mechanical and aesthetic damage. Mechanically you want to make sure that all the awnings are working, fans, air conditioners, fireplace, furnace, sewer system, water, etc.
If you are not mechanically inclined or not too familiar with electrical systems in RVs we highly recommend investing in a reputable inspector to ensure you are not buying a headache.
Aesthetically you want to walk around and check for damage in every corner. Sometimes doing this with bare feet is the best way because you can tell if there is damage or not. Check all the storage areas and cabinets for water damage as well.
Take a look at the tires to see their condition, and check the rear bumper, brakes, axles, etc. Inspect the doors to make sure that all the seals are in good condition. If the travel trailer has slides check the seals on the slides as well.
Storage Space
A common issue with travel trailers is not having enough storage space to carry everything you need. Check to see if the potential camper has under-bed storage to accommodate items underneath the beds and out of the way.
Also, check the space underneath the travel trailer (this is called the basement). You want to make sure there is enough space to store your camping chairs, a few tools, toys, grills, etc.
How Many People Will Use the Trailer
You also need to make sure that you take into consideration how many people you will be adventuring with. If you opt for a travel trailer that is too small this is going to make for a not-so-comfortable trip that might defeat the purpose of making memorable moments.
Include everyone in your list such as your pets, adults, and children. You want to make sure that everyone has a bed to lie in at night and that there is room to put your fur baby's bed or crate without taking up valuable floor space.
Do not forget to take into account any guests that might join you once in a while as well.
Drain System
Not only do you want to make sure that the drain system works, but you also want to see how the drain system is hooked up. It is best to choose a travel trailer that has a straight shot to the waste tanks rather than one that twists and turns.
The more twists and turns it has the more you run the chance of dealing with clogging issues.
Rent Different Models First
If you're not in a rush to buy a travel trailer, we highly recommend renting a few models before finalizing your decision. Renting is one of the best ways to determine what size and style you prefer.
This will also allow you to try out different floor plans to see what is best for your own needs.
Think About Repairs
Something else to consider when you choose a travel trailer is how expensive the repairs would be in the future. There are certain manufacturers that have plenty of parts available for repairs while other manufacturers will require you to only use their parts.
If you are buying new and don't want to think about repairs, make sure you opt for some type of warranty package where the dealer will help you out when there are any issues. For those that plan on using their RV more often, ask if there is an option of having mobile mechanics repair your travel trailer rather than having to bring it into the dealer every time.
Ready to Choose the Perfect Travel Trailer?
Now that you have our top tips when you are shopping for your travel trailer, it is time to go explore and choose the perfect travel trailer for you. Make sure that you make a list of the must have's so that while you are shopping, you don't settle.
We have more tips and guides, so make sure you keep browsing this section for our latest reads.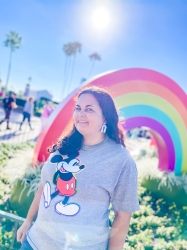 Latest posts by Krystal | Sunny Sweet Days
(see all)