7 Crucial Steps To Take When Organizing An Event
Organizing an event can be a daunting task. It requires careful planning, attention to detail, and the ability to anticipate any potential problems that may arise. But if you follow the right steps, it doesn't have to be overwhelming. With proper preparation and organization skills, anyone can successfully plan an amazing event! Here are six crucial steps you should take when organizing an event:
1. Outline Your Goals:
Before you start planning the event, it's important to outline your goals and objectives. Ask yourself what type of event you want to organize, who will be attending, and how much money you plan to spend. Having a clear goal in mind will help focus your efforts and prevent any confusion down the line. In addition, you may want to create a timeline for the event, as well as an overall budget. Also, determine if you'll need any permits or licenses to host the event. Moreover, decide what type of activities you'll have, such as seminars, workshops, or entertainment.
2. Research & Create a Theme:
Research is an important part of event planning. Spend some time researching venues and vendors, such as caterers, DJs, and photographers. Also, brainstorm ideas to create a unique theme or atmosphere for your event. This could include decorations, music, dress codes, or activities that fit with your event's goals and objectives. Taking the time to research will help ensure your event is a success!
3. Get fresh foods and drinks:
Food and drinks are often one of the first things people think about when planning an event. Take the time to select fresh, delicious foods and drinks that will wow your guests. Consider any allergies or dietary restrictions in advance so that you can provide suitable options for all attendees.
Also, make sure to purchase enough food and drinks to accommodate everyone's needs. It might be better to use a wholesale food supplier rather than a grocery store, as you will be able to get more food at a lower cost. This will help you save money and reduce stress on the day of the event. You can find out more here about this will help you save money and reduce stress on the day of the event. So make sure to research your options before making any final decisions.
4. Create an Invitation List:
Once you've outlined your goals and selected your venue and vendors, it's time to create an invitation list. Think carefully about who you would like to invite and make sure that everyone on the list has the necessary details to attend the event. You may want to consider sending out invitations or creating a website or Facebook page for guests to RSVP. Don't forget to provide directions, parking information, and any other pertinent details they may need ahead of time. This will help ensure everyone is able to attend your event without any confusion.
5. Plan Activities & Entertainment:
When planning an event, it's important to think about the activities and entertainment you will provide. Consider who your audience is and what type of activities they might enjoy. You could plan games, live music, dancing, or other activities that are appropriate for the event. You can also choose to hire outside entertainment such as a DJ or band to keep guests entertained throughout the night. This will help create a fun atmosphere and make the event more enjoyable for everyone. For example, if you are planning a corporate event, you may want to provide activities that help foster team building and networking.
6. Follow-Up & Evaluate:
After your event is over, it's important to follow up with any vendors or attendees who attended. Ask for their feedback on how the event went and what improvements could be made in the future. This will not only help you become a better organizer but also show your guests that you value their opinions and care about making their experience as positive as possible. Once all the feedback has been gathered, take some time to evaluate your performance and use what you learned to plan even better events in the future!
7. Set a Budget and Track Expenses:
Last but not least, it's important to set a budget and track all expenses related to your event. This will help you stay on track and ensure that you don't overspend. Create an itemized list of the expenses for each activity or vendor involved in the event to ensure that you don't miss any important details. As the event approaches, make sure to review your budget regularly and adjust if necessary. Keeping track of expenses is essential for planning a successful event!
Overall, planning an event can be a daunting task but with proper preparation and organization, it is possible to create a successful one. From setting goals and selecting the right venue to finding vendors and preparing invitations, there are many elements that need to come together for an event to run smoothly. Additionally, don't forget about creating activities or entertainment as well as following up afterward! By taking the time to plan ahead and track your expenses carefully you will have all of the tools necessary for hosting a successful event. Good luck!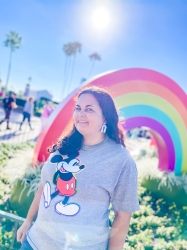 Latest posts by Krystal | Sunny Sweet Days
(see all)