6 Useful Tips That Every New Parent Must Know
You've been through the struggles pre-delivery and all the drama in the delivery room, and you've emerged a parent at last.
Your child is about to be discharged from the hospital alongside its mother. The overnight bag has been packed, and the car seat has been loaded. Now let the wait begin! While you wait to get home, here are a few tips to help you get started on the right foot.
A Baby Calendar
Accept the forgetful nature of "Mommy and Daddy Brain" and handle this by getting a baby calendar with spaces for handwritten notes. Yes, your phone has all your stuff… but it's not a baby calendar.
One day you'll be without that phone or the tech will be too old and you'll lose all that data. Buy yourself an old-fashioned calendar and when it's time to mark the "First" milestone, you can quickly jot down a few words and move on. It's fast and easy and will tell you how old your kid was when they did that first little miracle.
The journal also serves another purpose, such as to record doctor appointments, fevers and sicknesses, and medication dates. At times this information can prove useful during a doctor's visit. By getting to know your kid's patterns, you'll be better able to help them if they develop allergies or get sick without reason. Keeping a track of events is an effective tool for a doctor.
Be a Friend to Your Pediatrician's Nurse
Nurse friends can be really helpful. The nurse at your doctor's holds the keys to the kingdom. Don't be rude to her if you have to wait in the lobby. It's not her fault, she doesn't schedule. Call your pediatrician's office and ask to speak with the doctor's nurse instead of making appointments all the time and having to wait forever in the lobby. The doctors are very busy most times and would ask you to leave a message.
Tell the nurse you don't want to disrupt their schedule if it's nothing, and then tell them your child's symptoms. They'll tell you if it's nothing. If they think it's worth seeing, they will make you an appointment.
The nurse is better able to anticipate the doctor's schedule than the scheduler. You're more likely to get in if you're nice to them. Besides that, you will be remembered as someone who doesn't waste their time.
Babies Need Noise
Do not keep everything so quiet so that the baby can sleep. Nine months were spent sleeping with the noises of your life. Don't stop because they're on the outside.
Remember that the hospital was certainly not quiet! And the nursery is very busy! Play some music, turn on the television, and run the vacuum. Your baby will grow up around your family. You will be delighted when your child does not cry every time you utter a single sound.

IMAGE SOURCE: https://www.pexels.com/photo/photo-of-a-couple-sitting-with-a-baby-3995921/
Take Loads of Photographs
Every photo doesn't have to look like a fairy tale. There is no need to portray children as being perfect all the time. In order to make an impact, you need to learn to laugh at the absurdity in your life and the lives of your children.
Pictures are worth a thousand words. They are an excellent way of preserving a memory. Take pictures of all the precious times you spend with your baby. Take pictures of the random events in their lives. Someday, when they are much older, they will appreciate your efforts.
Pay Good Attention to Your Health
Parents also need relief. So pay close attention to your own health. Frequently, things like personal health or family health are put on hold when a child is born. If they are not addressed, they can grow into much larger problems down the road. Keep your relationship with your spouse strong by spending time together. You can go on date nights or go see a movie. Certified trainers at https://upsidedad.com/ suggest that you bring your baby along to be a part of these precious moments. Why choose between a date and a baby, when you can enjoy the best of both? Do not feel shy about asking for help with parenting.
Taking some time out to take care of oneself is important to maintain mental clarity. How parents care for their bodies and minds can affect their parenting and family life. The child will suffer if these two areas are neglected.
Be Kind and Practise Positive Parenting
A baby's brain contains approximately 100 billion neurons, but there are relatively few connections between these neurons. These connections determine our thoughts, create our personalities, drive our actions, and basically make us who we are. These qualities are built, strengthened, and "sculpted" over the course of a lifetime.
Provide your child with positive experiences. They will be able to have their own positive experiences and impart them to others. Provide your child with negative experiences. The development necessary for them to grow will not be achieved.
Sing a silly song. Play a game of hide-and-seek. Take a walk in the park. Laugh with your child. Support your child through an emotional storm. Provide guidance with a positive attitude. In addition to creating good connections in a child's brain, these positive experiences also form the memories you want them to hold for a lifetime.
Parenting may be challenging, but it is also very rewarding. The bad thing is that the rewards often come long after the hard work. But if you do your best now, you won't have anything to regret later. I wish you all the luck!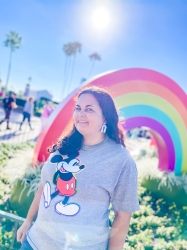 Latest posts by Krystal | Sunny Sweet Days
(see all)