6 Interesting Perks of Shopping For Your Groceries From Your Home Online
Thanks to the internet, we no longer have to buy groceries. You can now order your favorite food items and have them delivered straight to your doorstep. Not only will this save you time, but it could also save you money. There are many other perks of shopping for groceries online. Read on for 6 interesting perks of ordering groceries from home.
Reduce Your Risk of Getting Food Poisoning
It turns out that the bacteria levels in produce and meat are significantly lower when they're purchased through an online delivery service. Studies have been conducted that suggest this.
You can further reduce your risk of getting sick from food by freezing your groceries until you're ready to use them.
Shop For The Freshest Produce
The freshest produce can often be found at your local farmer's market, but if you are tired of having to find time for the trip or if it is simply too far away from where you live, then shopping online may be a viable option. With countless grocery stores online, you are sure to find one that has what you're looking for.
Many online stores stock fresh produce like apples, oranges, bananas and green beans with a shelf life of no more than two weeks. With this kind of freshness, you can be sure that your produce is ripe for eating when it reaches its destination in your kitchen.
Order Things That Are Not Readily Available At Your Local Grocery Store
Order items that are not readily available at your local grocery store, like organic foods or specialty items from other countries with a few clicks of the mouse.
This includes access to healthier foods and more natural options. More online grocery stores are stocking healthy food. A review of Thrive Market mentions how the store stocks a wide variety of sustainable foods that range from gluten-free to paleo, Whole30, non-GMO, organic, and more. There'll be no need to drive around looking for them.
Have An Easier Time Finding What You Need Online
Have an easier time finding what you need with personalized recommendations based on your previous purchases and search history of products you've been looking for. This means that you will be able to find items more quickly than in the store and without having to worry about forgetting anything.
The grocery list feature can also help you keep track of what you need from your previous purchases so there are no duplicates, which is especially helpful if somebody else does most of the shopping for your household or family.
Get Access To Deals Not Available In Stores
One of the benefits of shopping for groceries online is that you have access to deals not available in stores. There are a number of different websites devoted exclusively to online grocery shopping, and they often offer discounts on their products. For example, if you wanted to buy cereal from Target but couldn't find it at your local store because someone bought them all already, then you would turn to an online site that might have some left! This can be helpful when there's something specific your family needs-like fish oil tablets for dad's arthritis pain relief-and don't want to drive around town trying every pharmacy until you find what he wants.
Plus many stores offer their own coupon codes which mean more savings on top of what they already have advertised. This also comes into play when deciding between different brands: sometimes one product with a lifetime warranty may cost more upfront but work out cheaper over time due to a lower price per unit.
Reduce Food Waste
When you buy your groceries online, there is an opportunity to reduce food waste. Buying in bulk and storing extras can lead to that stale loaf of bread being tossed out a week later; purchasing only what you need reduces this risk. Similarly, impulse buys are less likely when shopping from the comfort of home as opposed to on-the-go – like grabbing snacks from the gas station convenience store aisle while driving through town.
Online grocery shopping is convenient and easy. With just a few clicks, you'll have your favourite produce delivered to your doorstep in no time. Not only that but with online groceries, there are more perks than ever before. You can shop for the freshest produce without leaving home and order products not readily available at your local grocery stores like organic meats or niche items from other countries. Plus if you happen to forget about something while out running errands, don't fret–online delivery will bring it right to your doorsteps so you never need to worry about food waste again! All of these reasons make it an excellent alternative when planning meals on the go or whipping up some new recipes in the kitchen.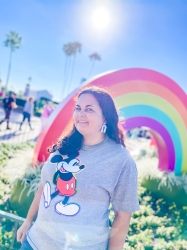 Latest posts by Krystal | Sunny Sweet Days
(see all)