Useful Tips For Choosing The Right Backpack For You
Backpacks are undeniably a necessity for people across all genders and age groups. It has proven to be a companion that follows you everywhere with the sole purpose of serving you.
As basic as backpacks may seem, one should appropriately consider certain factors before purchasing one so that the backpack will serve you efficiently irrespective of the purpose of purchase. This article aims to be an eye-opener to enlighten you on what to look out for before purchasing a backpack.
What Do I Consider Before Buying A Backpack?
They are very few yet so precise. If you follow this, you will end up with a backpack that you use longer than you can imagine.
Purpose
Just as you wear coats during winter and bikinis during summer, backpacks also have different purposes. To get the best, always consider and prioritize the immediate purpose for the purchase. Some backpacks are ideal for short trips with limited carrying capacity, whereas other models are excellent for hiking across mountain trails and can carry a lot. Wearing the wrong backpack will cause you more problems than you bargained for. For example, bringing a small pack for a 5-day outdoor adventure won't let you carry all the necessary items you will need.
Moreover, the chances are that you're going to look silly. You will end up looking like you didn't plan your trip. As much as picking a bag that fits your style is necessary to compliment you, the type won't be complete when it doesn't fulfill its purpose. It's therefore essential to choose a backpack that complements your current style while providing flexibility, convenience, and value.
The Brand
There are too many fancy-looking yet substandard backpacks in the market. If you want a bag you can rely on good quality, opt for a backpack manufactured by an established brand. Go for a bag with a name brand that is relatively popular. These brands that have been in existence in the industry for a rather long time are very intentional with their products, ensuring that they make and produce just the best.
Several customers give good reviews on their experience with the good brands. Considering that they have an image to keep up with, they do their best to produce good bags with the best materials. A backpack from a well-known brand helps you feel confident that you are buying a quality product. The converse is also true: buying from unknown brands with limited or no positive feedback is risky. It may be cheaper, but you won't have the bag for long.
Comfort
Buying a comfortable bag is extremely important, do not be swayed by aesthetics and end up with an uncomfortable bag. A good backpack shouldn't put more strain on your back and shoulders, causing unnecessary pain and discomfort. In addition, suitable backpacks should ease the weight you are carrying and not worsen it.
Before paying for the backpack, inquire if it is okay to try it on. Trying the backpack before purchasing it gives you a clue on what it will feel like. Then, wear the backpack for a while, and check out how the material in the back and straps are. Also, think about the intended contents in the bag and ensure that they wouldn't be poking out of the backpack. Bad backpacks can cause backaches and shoulder pain due to strain.
The fact that you shouldn't compromise your comfort for aesthetics is a fact. So, here are a few areas that can cause discomfort, and you should carefully consider them when thinking about backpack comfort:
Good Shoulder straps: A bag with adjustable straps and padding on the shoulders is a preferable option. The pad on the shoulder helps the backpack to sit on your shoulders comfortably by reducing the pressure and strain on your shoulder.
Properly padded back: A Backpack that is contoured and has an adequately padded back creates comfort because the padding aligns with the natural shape of the lower back. In turn, the bag "sits" on the natural arch of the back, significantly reducing pressure and tension.
If you are a hiker or mountaineer, you may want to consider bags with hip belts because they help eliminate some weight from the back and shoulders. In addition, bags with hip belts makes carrying heavy loads more manageable, especially if you are doing so for extended periods.
At this point, you may ask, "What has comfort got to do with style?"
Before choosing a backpack, you need to understand and adequately consider the purpose of the purchase and your comfort, amongst other things. So do yourself some good and buy a quality backpack that suits the purpose of purchase.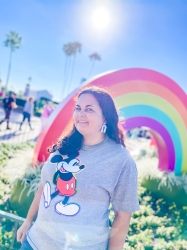 Latest posts by Krystal | Sunny Sweet Days
(see all)