5 Ways To Prepare Yourself for Summer
For many people, summer is typically filled with poolside moments, celebrations and vacations. If you're climbing out of the coziness of the winter months, it's time to put the blankets away and pull out the slimming swimsuits and sunscreen. When you're enjoying this warm weather season, look and feel your best by preparing in the following ways.
1. Do a Summer Wardrobe Check
Before shopping for a brand-new wardrobe, go through your closet to determine what you have — the perfect base pieces might already be in your collection. Starting with timeless basics is a great way to make sure you have clothing you can wear for years and then accessorize so they never feel old or boring. Foundational summer pieces include button-down shirts, classic denim shorts and a great pair of comfy yet cute sandals. You can always add trendy pieces like accessories, sundresses and blouses throughout the years.
As you go through your clothing, check how well the items fit your body. It's one thing if you're in the middle of a transitional period with your body (there are a million reasons our bodies change!), but if you're still holding on to pieces that haven't fit for years, it may finally be time to let them go. Embrace your body at its current stage and prioritize clothing that fits the current you.
As you take inventory of your closet, create a list of the items you still need (or need to replace). Even as you focus mostly on the basics during this process, you can note down accessories and accent pieces you might want to search for. Keeping track of what you need will make it easier to shop and maintain focus on building your ideal summer wardrobe.
2. Secure the Right Undies
With summer comes less coverage, and with less coverage, there's always a risk that your undergarments will peek out, whether you're in a cute sundress or form-fitting shorts. Halter-style bras and strapless bras can come in handy; they offer visible support and even a bit of a lift without showcasing your straps. You can also check out reversible bras that allow you to adjust and change the straps based on the type of coverage you need.
It's easy to forget that underwear isn't limited to just bras and panties: consider shapewear! You can take full advantage of what your body has to offer. Shapewear can help smooth out your figure and any underwear lines, as it can camouflage parts of your body you might be less fond of. For lightweight, flowy skirts and dresses, try some mid-thigh shapewear for all-over support that also slims you down.
3. Create a Maintenance Plan
Consider some tasks that you let fall by the wayside during the colder seasons. If you're not as strict about hair removal in the middle of winter, that's understandable. If you're a woman who embraces hair in all areas, there's nothing wrong with that, but if you want to eliminate it, it's easier to create a plan than tackle it all at once.
Whether you'd prefer to wax, shave or try a more permanent option like laser removal, secure the right resources and professional appointments. If you plan to do your own hair removal, make an appointment with yourself to properly remove the hair on a schedule, especially if your hair grows particularly thick. Use this time as an opportunity to indulge in self-care.
Keep your other maintenance tasks in mind, too. You don't want to rush activities like manicures or pedicures. If you're going to do those tasks at home, schedule a block of time where you don't have to do laborious tasks like washing dishes or gardening. You need to allow time for the nails to properly dry.
4. Prioritize Health and Wellness
As a woman, you hold the power to radiate and feel confident at any size. The key is to maintain optimal health. Always prioritize healthy habits to help you look and feel your best. Especially during the summer months, prioritize hydration. In addition to drinking lots of water, find ways to eat your water as well. Consume foods like watermelon, cucumber and peaches to stay hydrated.
Another way to make health a priority is to move your body every day. Whether you're enjoying a sweaty aerobics class at the gym or walking around the neighborhood for 45 minutes, get your heart rate up multiple times during the week. It's not solely for weight loss — exercise helps your body create endorphins that combat stress and anxiety. Regular exercise can even help mitigate some of the effects of chronic mental illnesses like anxiety and depression and aid with focus and sleep.
When you wake up in the morning, take some time to stretch your limbs and connect with yourself. Tight muscles will add to stress and may even contribute to aches and pains that can otherwise be prevented. Keeping in touch with your body can help you develop or maintain a better body image and overall self-esteem. Try some deep-breathing exercises to manage stress, loosen up, increase your lung capacity and practice mindfulness.
5. Protect Your Skin
Sun protection is paramount when you're spending time in the sunshine. Whether driving to work or enjoying a beach vacation, the sun emits harmful UV rays. Knowing this, it's best to always keep sunscreen and sunglasses on hand.
For sunscreen, invest in an option that's at least SPF 35. Purchase a few types of sunscreen to ensure full coverage and protection. Body sunscreens are not formulated the same way as facial products, and you don't necessarily need waterproof products if you'll be spending most of the day in the office.
Having fun in the sun shouldn't come at the expense of your skin's health, and sunscreen is actually one of the best ways to prevent or delay the appearance of aging. Make sure the products are formulated specifically as sunscreen! Tinted moisturizers or foundations with SPF added don't afford the same protection as proper sunscreens.
Enjoying the Season
Many people tend to be in a better mood during the summer months. With more mood-boosting sunlight and fun-filled vacations, take time to intentionally enjoy yourself this season. Embrace your body, style, and confidence. By preparing yourself for the summer in these five ways, you'll set yourself up for a special and memorable time.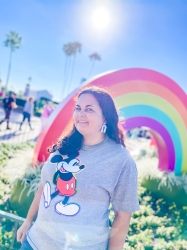 Latest posts by Krystal | Sunny Sweet Days
(see all)