6 Fun Things To Do This Summer
Summertime is a time for fun and relaxation. It's a time to get out and enjoy the weather, spend time with family and friends, and explore new things. If you're looking for some ideas on how to have some fun this summer, look no further. Here are six great ideas to help you make the most of your summer:
Consider Wine Tour
A wine tour is a perfect way to enjoy the summer weather while learning about a fascinating subject. There are many different ways to organize a tour, but one of the easiest is to visit a local winery. There are many different wine regions to choose from, each with its own distinct flavor profile. Whether you're looking for juicy reds or crisp whites, you're sure to find something to suit your taste.
If you're feeling more adventurous, you can also try booking a spot on a vineyard tour. These tours typically last for several hours, allowing you to see how grapes are grown and processed into wine. Of course, no wine tour would be complete without some tasting. Be sure to take advantage of any opportunities to sample the wares of the wineries you visit. You can also purchase wine directly from the winery to take home your new favorite varietal.
Plan a Road Trip
Road trips are a great way to explore new places and see things you've never seen before. If you're on a budget, road trips can be a great way to save money on travel costs. You can plan your route to hit all the major tourist attractions, or you can veer off the beaten path and explore some lesser-known places. Road trips are also a great opportunity to bond with your travel companions. You'll have plenty of time to talk, listen to music, and enjoy each other's company. When planning a road trip, map out your route and pack snacks and drinks for the journey.
Go Camping
Camping is a great way to return to nature and enjoy the outdoors. It's also a great activity for families or groups of friends. There are many different types of camping, so you can find one that's perfect for you. Tent camping is a popular option, but there's also RV camping, car camping, and backpacking. If you're new to camping, plenty of resources are available to help you get started. You can find campsites at most state and national parks or search for private campsites online. When packing for a camping trip, bring plenty of food, water, and clothes to keep you warm at night. You'll also need a tent, sleeping bags, and other camping gear. If you don't have any gear, many stores offer rental options.
Visit a Farmer's Market
Farmer's markets are a great way to get fresh, locally grown produce. They typically occur in the spring and summer, so now is the perfect time to check one out. Farmer's markets are also a great place to find unique gifts and handmade items. Be sure to bring along some cash, as most vendors don't accept credit cards. And, if you're looking for a specific type of produce, call ahead to the market to see if they'll have it before you go. Farmer's markets are a great way to support your local community and get some delicious food while you're at it.
Get Out on the Water
It's summertime, the perfect time to get out on the water. Whether you're looking to cool off on a hot day or enjoy some outdoor recreation, there are plenty of ways to enjoy the water this summer. Here are just a few ideas to get you started:
Go for a swim
Take a dip in your local pool, lake, river, or ocean. Just be sure to obey all posted signs and regulations to stay safe.
Get out on a boat
If you have access to a boat, why not take it for a spin? Whether sailing, fishing, or just cruising around, spending time on the water is a great way to relax and enjoy the summer weather.
Visit a water park
Water parks offer a great way to beat the heat, from slides and pools to lazy rivers and wave pools. And with so many locations across the country, one will surely be near you.
Ride Your Bike
One great activity to do during summertime is riding your bike. Not only is it a great way to get some exercise, but it's also a great way to explore your surroundings. If you're lucky enough to live near some trails, you can spend your days biking through forests and fields, taking in the fresh air, and enjoying the scenery. Even if you don't have access to trails, you can still explore your neighborhood or city by bike, checking out new shops and restaurants.
There are many great things to do during the summertime. And with so many activities, you're sure to find something you'll enjoy. So get out there and make the most of your summer.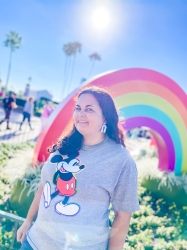 Latest posts by Krystal | Sunny Sweet Days
(see all)