5 Quick and Healthy Recipes for College Students
Besides studying, eating food is one activity college students cannot avoid. However, buying meals is not always a good option. Plus, purchasing food all the time takes resources a student may not have. On the other hand, most meals are not particularly healthy.
If you are a student, you may be looking to make healthy food quickly while on the go. Below are 5 quick and healthy recipes you will want to learn.
Miso Noodles and Fired Eggs
You will need the following ingredients to make the dish.
Noodles
Eggs
Olive oil
Pepper
Ginger
Peas
Beansprouts
Miso paste
Spinach
Also, you may add paprika and garlic to flavor the dish.
Initially, you will want to soften the noodles by soaking them in hot water. Then, you may want to fry the pepper, leek, and ginger in olive oil. You can add paprika, garlic, or any ingredients to improve flavor.
If the noodles have softened, you should drain them and mix them over the heat with beansprouts, spinach, peas, and miso paste. If needed, add liquid. While doing this, you should fry the eggs as you prefer. Next, you can add the finished noodles and eggs.
When you are a student, getting good grades is as essential as eating healthy food. As such, students can use healthy writing life for their articles and academic content. This platform offers many features and benefits to its clients. This way, both your eating and your studying will be in check!
Spiced Lentil and Butternut Squash Soup
You will need almost an hour to prepare this meal. Also, you will need squash, lentils, onions, garlic, and some chili. To start, you should caramelize onions in oil. You can add chili, garlic, and other ingredients for taste. Next, you should cook the lentils and squash together. You can season with stock for taste and flavor. Boil the mix, lower the heat and allow the mixture to simmer until soft. To make the mixture into the soup, you should blend it. You can add toppings like coriander leaves and yogurt to the soup.
You can try writing down recipes you like and save them for later. This will also allow you to work on your writing skills, which are essential for every student. Acquiring this attribute is helpful in school and professional life.
Linguine with Tomato, Lime, and Avocado
To make this dish, you need linguine pasta, onions, coriander, chili, tomatoes, avocado, and lime. Firstly, you should cook the linguine as instructed on the pack. Next, you will want to mix all the ingredients in a bowl. Once the pasta is done, you should drain it, put it in the bowl, and mix. This entire process will not take more than 30 minutes. This meal is an excellent vegan option and can be served cold or warm.
Stir-fry Broccoli and Brown Rice
This food can be an excellent choice for vegetarian students. To prepare it, you will require broccoli, brown rice, ginger, garlic, and chicken substitute. The first step involves boiling the brown rice for about 5 minutes. Afterwards, you should stir-fry all the ingredients except broccoli. You may want to add the chicken substitute after a few minutes of frying. You should cook the broccoli using honey, soy, pepper, and other stir-fried ingredients. Once done, you can serve the brown rice and the rest of the ingredients.
Spicy Chicken and Avocado Wraps
You need chicken breast, garlic, chili, and tortilla wraps to make this meal. Firstly, you should combine the chicken with garlic, chili, and lime juice before frying it. Take the wraps and prepare them as stated in the instructions. Spread avocado on the wraps and add all the fried items. Finally, you should roll and serve the finished product.
Verdict
Quick and healthy foods are ideal for college students. This article presents 5 healthy recipes you will want to choose from. Try these delectable meals, and you will be both healthy and satisfied!
About the Author
Andrew Mazur is a food expert. He also writes articles and books on various food-related topics. While he is not writing, Andrew loves volunteering at a soup kitchen.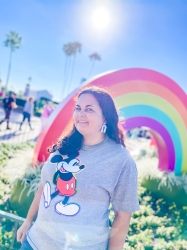 Latest posts by Krystal | Sunny Sweet Days
(see all)