4 Amazing Gift Ideas For A Teenage Girl
It may surprise you to know that teenage girls can actually be difficult to buy for, especially if you are actively trying to avoid giving her the generic gifts that are on every teenager's wish list like a new phone or iPad.
That is not to say you have to avoid splashing out, you can spend as much as you like on her gift, but choosing something that is meaningful and from the heart will be a much better idea than some trendy gift that all of her mates have got already.
Choosing The Right Gift
There is no right or wrong answer when it comes to gifting, any gift should be from the heart, but you really need to consider what kind of person the teen you are buying for is.
If she is a tomboy, she probably does not want a new makeup palette, equally, if she loves the creature comforts of indoors, then a day doing bushcraft might not be her thing either!
Here are four unique and amazing gift ideas for the teenage girl in your life
A Perfume Subscription
In short, a fragrance subscription box is a monthly delivery of new perfumes. She can choose to have a regular delivery of her favorite or change her mind with all kinds of samples.
Why this is good: Teenage girls are just finding themselves, they are working out their own identities, and that means finding their own fragrance. This is a cost-effective way for her to give a few samples a go and find the one she likes.
An Instant Camera
Haven't the kids all got camera phones? Sure they have, but there is a disconnection between the pictures that are on a tiny smartphone screen and the photos they can hang in their home.
This gift speaks to the girl who wants to see her mates on her real wall, not just her virtual wall.
DIY Cosmetics Kit
There has been a huge rise in the popularity of DIY gifts recently. This is not just because of the pandemic restrictions either, the increase in eco-awareness has led to many younger people wanting to reduce their waste and impact on the planet and learn the skills necessary to do this, rather than just buying another product.
This is why a DIY cosmetics kit is such a good idea. It could be anything from lip balm to soapmaking, or even branching out into tie-dye t-shirts for DIY fashion too. She can create items for herself or make gifts for her friends and learn a skill which she can carry forward in her life. Who knows she might even create a business from it one day.
Wireless Headphones or Earphones
It is likely that work from home and education from home orders will be either fairly permanent or will come and go over 2021.
Invest in a decent set of noise-canceling wireless headphones or wireless earbuds for her as a gift to help cancel out the noises in everyday life and let her concentrate on school work in relative peace and quiet.; or she could just use them for listening to her favorite bands and relaxing away from the social and academic pressures that come with being a teen. Either way, she will get great use out of them and be thankful for such a versatile gift!!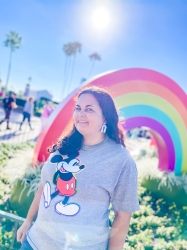 Latest posts by Krystal | Sunny Sweet Days
(see all)