Top 4 Home Improvements for People on a Budget
If you are tired of looking at the same four walls all day but you don't have the money to spend on a costly renovation, there are a few cost-effective ways to improve your home. With a lick of paint here and a small tweak there, a few minor changes can make a massive difference to the appearance of your home. Here are a few DIY home improvements that won't break the bank.
Add a Feature Wall
Feature walls are easy to create and they can help you inject some personality into your home. Pick a wallpaper with a bold, contrasting pattern to make a statement, or use a stencil and paint to do it yourself. If you want to get crafty add texture by using 'wooden planks' to create a paneling effect. Peel and stick wood panels are budget-friendly and easy to apply. Small tiles can be used to create a stunning mosaic, or you can simply choose your favorite color and paint the entire wall.
Remodel the Spare Room
Remodeling a spare room sounds costly but it is completely possible, even if you are on a tight budget. If your spare room is unused and gathering dust, then turn it into a chill out room. Everyone needs a space to relax in after a hard day at work, this could be yours. Empty the room of clutter, give it a deep clean and then repaint the walls in calm, neutral tones. Next, fill it with your favorite things.
If you enjoy playing music and you already possess instruments, then a music room is a good choice. People who enjoy being pampered can create a spa experience by adding candles, incense sticks and aromatherapy oils to the room. If you love to read then install some shelves to create a mini library, and add a cozy bean bag to snuggle into. Fombag has a collection of foam filled bean bags that are extremely comfortable and versatile. They are available in many shapes and sizes and you can choose from various fabric covers, such as microsuede, corduroy and fur.
Change Your Lights
Simply changing your lights can have a huge impact on your home, and you can do this without spending a lot of money too. Firstly, check that the brightness of your light bulbs matches the rooms you are using them in. You may find that your bedroom looks better with a warmer bulb. Secondly, update your light fixtures. A brand new set of wall sconces can revitalize the look of an entryway while track lighting can modernize a kitchen space.
Paint Your Fixtures
If you don't want to spend money on new cupboards and cabinets but you are tired of the way they look, painting the handles can help to make them look like new again. This method applies to faucets and other fixtures around the home too. Replacing household items can be incredibly costly, and also unnecessary if they are in good condition. Another way to revitalize old furnishings is by replacing the fixtures. This is much cheaper than replacing the entire lot, and you can transform the look using unique handles and fixtures.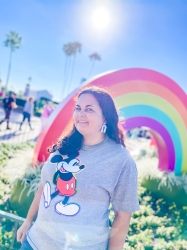 Latest posts by Krystal | Sunny Sweet Days
(see all)