10 Money-Making Tips for Travelers
Many people may think saving money is essential before starting to travel. However, it's possible to make money while traveling, especially with the increasing digitization. You only need an internet connection, a laptop, and some skills you can learn.
By making extra cash on the go, you won't have to worry about your budget. As a result, you will be able to stay longer in exotic places.
This article lists ten easy ways to make money online while exploring the world. With these methods, working virtually from anywhere with a flexible schedule is possible. 
1. Monetize a Travel Blog
Blogging is an excellent method to earn money while traveling for those with solid content writing skills. You can share travel tips or recommendations and monetize the blog through:
Displaying ads. Lend space on your travel blog for brands' banner ads and get paid every time someone clicks on the ad.
Partnering with brands. Accept a sponsored guest post or a review where you place a brand's link or write about its product in exchange for money or free accommodation.
Speaking at conferences. Popular travel bloggers can get paid to travel by speaking at events related to their topics, such as blogging, travel lifestyle, and photography.
To gain travel blogging success, build your audience and authority by consistently posting valuable content.
Consider finding a specific travel niche or segment, like solo female travelers, cruise ship holidays, and budget travel. Then, brainstorm unique blog post ideas and implement search engine optimization (SEO) strategies.
2. Start a YouTube Channel
Starting a travel vlog is another excellent way to record your experiences and earn money. You can get paid via YouTube AdSense and brand collaborations.
Beginners can start vlogging using mobile phones, but consider investing in the extra equipment to make the videos professional. Doing so will help you turn the channel into your own business, making it a full-time job.
Some essential tools include a stabilizer and a tripod to avoid shaky videos and a microphone for better audio quality.
3. Grow on Social Media
Besides creating your own blog and YouTube channel, social media platforms are a great place to monetize your travel experience. This will help you make some decent money and cover travel expenses.
Make appealing travel content, and some social platforms will pay you once you reach certain views and followers.
For example, TikTok creators with at least 10,000 followers and 100,000 video views can join TikTok's Creator Fund program and get paid between two to four cents per 1,000 views.
Many brands also often partner with social media influencers to promote their products or services. These influencers can earn from $10 to $1,000, depending on the following, engagement rate, and content type.
4. Affiliate Marketing
Affiliate marketing is an effective method to get passive income for a travel content creator with an established audience. On average, affiliate marketers can get annual revenue of $51,217, while the top earners can reach $71,000.
With this strategy, you'll get a commission when someone purchases using your affiliate link on your own website or social media.
A good tip is to join affiliate programs suitable for your niche. Some profitable affiliate marketing programs for travel content creators include Tripadvisor, Booking.com, and Skyscanner.
5. Freelance
Earning money while traveling isn't difficult for a freelancer, especially when you already have skills to offer. Freelancing has flexible working hours and lets you decide which projects suit your interests.
Some popular sectors for freelance work include web design, writing, translation, and social media management.
To start, set up a profile on freelancing platforms like Upwork and Fiverr. An alternative is to join sites offering freelance jobs like 99designs for those with graphic design skills.
You can also do freelance writing and share travel experiences on relevant websites or online magazines, such as Matador Network and Travel + Leisure.
6. Sell Your Photos and Footage
If you have travel photography or videography skills, consider making money online by selling your photos and footage. You can practice your passion, document exotic destinations, and generate income.
Adobe Stock, Shutterstock, and VideoHive are good places to start selling stock images and footage. Generally, the earnings will depend on the number of photos or videos sold and whether you sell exclusively on the platform.
Alternatively, show the work to tour companies, outdoor brands, and cruise ships, as they often need stock photos and footage for their marketing campaigns.
A travel photographer may also get a location-independent job by offering their service to tourists or other content creators while traveling. Sign up for a company like Sweet Escape and receive a notification when there's a client in your area.
7. Become a Virtual Assistant
A virtual assistant is a remote working employee offering administrative support for businesses. They generally perform tasks similar to an executive assistant's job descriptions, such as making phone calls, organizing emails, and scheduling meetings.
Essential skills you may need to become a virtual assistant include communication, organizational, and computer skills. Therefore, consider getting certifications in related areas to stand out, such as Microsoft Office Specialist or Google Workspace certification.
After that, look for clients on freelancing sites or virtual assistant hiring platforms like Zirtual and VaVa Virtual.
8. Sell Digital Products
Another way to make more money traveling is to sell digital products like eBooks and online courses. You can focus on the city or country travel guides or tips on traveling with a limited budget.
Nathaniel Drew is one of the travel content creators that earn good money by providing multiple online courses.
He teaches tips and tricks on speaking confidently, documenting our lives, and sharing content online. Drew also collaborates with his fellow YouTuber, Johnny Harris, to create visual storytelling and language learning courses.
If you're interested in selling eBooks, visit websites like Amazon, Sellfy, and Payhip. Those planning to offer online courses can opt for Udemy and Skillshare or pick a travel-specific platform like Bright Trip.
9. Dropshipping
Dropshipping is a popular online business idea because this is one of the easiest methods to operate and gain extra money.
A dropshipping business owner doesn't need to worry about inventory and storage as a third party, like a manufacturer and wholesaler, will handle them. The dropshipper will focus on setting retail prices, conducting market research, and managing customer service.
Start an online store by choosing a profitable niche and items. Travelers can sell travel products, like travel pillows, luggage, and travel organizers.
Then, find reliable suppliers on dropshipping websites, such as SaleHoo and Modalyst.
10. Teach English Online
If you're fluent in English, you have an excellent opportunity to travel while earning money by teaching the language. Many non-English speaking countries are willing to pay a lot for English as a second language (ESL) teachers.
To start, we recommend you get an online certificate for teaching English as a foreign language (TEFL) from an accredited institution like TEFLPros. It provides an internationally recognized TEFL certificate and lifetime job searching assistance.
Once you get the certificate, visit the English learning and teaching platforms like Open English and Lingoda. Check the requirements before applying because some may require teaching experiences and minimum weekly working hours.
Conclusion
This article has covered ten ways to make money online. A good tip is to choose based on your interest and skills. Furthermore, we recommend choosing more than one way to diversify your income streams.
Those interested in documenting their journey and sharing travel trips can become content creators on YouTube, social media, and blogs. Building an audience may take some time, but you can monetize your platform in many ways once you grow a following and online presence, such as brand partnerships and affiliate marketing.
Professionals who want to monetize their skills can become freelancers or create online courses. Meanwhile, consider dropshipping if you want to sell online.
Lacking a big budget doesn't have to be an obstacle to traveling, as there are various ways to generate revenue online.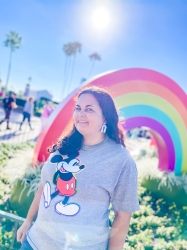 Latest posts by Krystal | Sunny Sweet Days
(see all)