Attending a Wedding? Keep These 5 Fashion Tips in Mind
Receiving an invitation to a wedding is a special gift. You, and several others, have been handpicked to witness two individuals become one in a beautiful and blessed ceremony. For most couples, getting married is a crowning achievement that symbolizes their everlasting love. It's no wonder why every couple wants their wedding to be as perfect as possible.
As a guest, it's your duty to look presentable during the wedding. In particular, you'll want to make sure you pick an appropriate outfit to respect the wishes of the future married couple and show your appreciation for being invited.
Unfortunately, finding the perfect outfit for the ceremony can be challenging. Even if you don't have a major role in the wedding, you still have to dress appropriately to follow well-established wedding guest etiquette. If you're having a hard time coming up with an ensemble that's befitting of the event, here are five fashion tips to keep in mind to make the process easier on yourself:
Always Follow the Dress Code
When couples send out their invitations (whether printed or electronic), they usually include the dress code somewhere on it. Remember that the dress code isn't something you should take as a suggestion. Rather, you should consider it a set of rules that you have to follow. Couples dream of having a picture-perfect wedding, and the color and style of their guests' outfits can greatly elevate the feel of the theme they're going for.
Apart from helping to make the wedding more memorable for the couple, the dress code also serves as your foundational guide when creating your outfit as a guest. Given that all the information you need is in the dress code, the couple already expects you to know what type of dress to wear and the color it has to be in. So, be sure not to stray far—if at all—from their expectations.
Dress Tastefully for the Ceremony
There may be occasions wherein you'll be invited to a wedding that doesn't require a strict dress code. That said, this doesn't mean that you get to dress however you want, such as showing up in jeans and a T-shirt. Weddings are formal events, after all, so dressing tastefully will keep the sacredness of the ceremony intact.
Among all the fashion styles you can take inspiration from, formal wear is the most appropriate. Dresses that fall under this category will make you look effortlessly elegant and captivating. Many formal dresses also come in classic and timeless styles, so you can use the same dress if you get invited to another wedding. Of course, you can always change things up a bit by playing around with the rest of your outfit. You can, for example, shop hosiery in a variety of colors that match your dress. You can also wear different sets of jewelry for each wedding you attend.
As Much as Possible, Avoid Wearing Black or White
Even though there's no written rule stating that wedding guests can't wear black or white, you should still avoid wearing outfits that mainly come in these colors, if you can help it. Wearing black might be slimming, but an all-black ensemble is usually reserved for funerals. Thus, attending a wedding while wearing black may create a somber atmosphere during what is supposed to be a happy occasion. Wearing an all-white outfit, on the other hand, may come off as being rude. This is because brides who choose to wear a white wedding gown likely do so to keep that particular tradition alive—that is, the tradition of having only the bride wear white during the ceremony. Additionally, being the only one wearing white during the event will make the bride the center of attention on their big day. In short, if you wear a white dress to a wedding, you might end up stealing the spotlight.
To ensure that everyone's focus will stay on the couple who's tying the knot, it's good to stick to dresses and formal outfits that come in earthy hues or cool tones. You can also go with dresses that feature primary and pastel colors, as long as they aren't too distracting.
Don't Overdo It When It Comes to Accessories
Weddings give you a chance to get fancy with your ensemble. Nevertheless, this isn't the best time to show off your biggest and shiniest accessories. Again, you don't want to steal the bride's limelight. Going with just one eye-catching piece—a simple gold necklace, a pair of studded diamond earrings, or silver bangle bracelets—should be enough to complete your outfit.
If you plan to bring a bag, make sure it's an elegant carryall purse that matches your outfit. This way, you can easily bring your phone, IDs, and wallet with you without ruining your overall look.
Bring a Pair of Flats as a Back Up
There are many reasons why heels have become the go-to women's footwear for formal events like weddings. They're elegant, they elevate your wedding outfit, and they give you a more feminine look.
However, wearing them for long periods can be painful, especially if they're a pair that aren't designed to be ergonomic. That's why it's smart to bring a pair of cute flats as your backup footwear. Flats are more comfortable and easier to wear than heels, so swapping into them is a great way to give your feet a break. They're also kinder to your feet, so you can mingle with the other guests and dance the night away during the reception pain-free.
There are so many things you have to think about as a guest who has to come up with outfits for weddings. However, if you keep these fashion tips in mind, putting together formal ensembles for special events like these will be a much easier experience.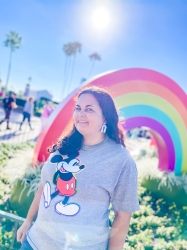 Latest posts by Krystal | Sunny Sweet Days
(see all)