6 Street Fashion Tips That Won't Let Your Outfit Flop
Street and urban fashion are very popular among both young and old now. We are currently seeing an urban fashion revival. For somebody unfamiliar with street fashion that wants to get involved and begin dressing in that style, then it can understandably be difficult, especially if you have no previous experience, to get involved. Do not worry though, for we are going to tell you everything you could need to know right here on this page – the basics if you will. We hope to demystify street fashion on this page for you.
In this article, we are going to tell you six street fashion tips that will not allow your outfit to flop. Adhere to the tips that we put forward on this page and every single outfit you wear will be on point.
Here are six street fashion tips that will not let your outfit flop!
1. Summer Sandals
In the summer, particularly in hot countries like Australia and in the southern parts of the United States, sandals and flip-flops are very popular. Havaianas are a very popular type of sandal that people wear throughout the world, so whether you wear Havaianas Australia, or in Los Angeles, be sure to add them to your summer outfit. Sandals and flip-flops in the summertime are usually avoided by people quite wrongly; they are a great piece of footwear to wear, especially if you are interested in urban fashion and want to find your own personal style.
2. Sneakers and Boots
When it comes to streetwear, sneakers and boots are mandatory. Streetwear and boots are to be worn with absolutely everything, whether you are wearing a suit, a sweatsuit, or jeans and a T-shirt. Sneakers have become a style staple for every fashionista, and streetwear is no exception. Sporting the newest footwear models can elevate any ensemble from plain to stylish. As one of the most popular choices in footwear today, sneakers provide both comfort and flexibility, allowing you to be as creative as you want with your outfit while still remaining current with the latest trends.
Boots are a particular favorite of mine. In years past, Timberland boots were the most popular, but now black leather boots are becoming very popular. Sneakers and boots can be picked up at most urban retailers, so you should not have any trouble picking them up. The only time you shouldn't wear them is when you are wearing your sandals or your flip-flops.
3. Sweatsuit and Sartorial Combo
Wearing sweatsuits with suit jackets and trousers would have, a few years ago, been an absolute fashion faux pas. Now, however, sweatsuits and sartorial clothing go together very well and are a very important part of urban style. The most popular combinations are often suited trousers with sweatsuit jumpers, or vice versa. If you are interested in urban style and want to make a statement – a sweatsuit and sartorial combination could be the best way for you to do this. You will find that traditional tailoring and sweatsuits go together very well.
4. Sunglasses
Sunglasses, at the moment, are very in. You will find if you browse streetwear magazines and journals that every outfit is accentuated by a pair of sunglasses particularly squared sunglasses. Sunglasses are best worn at night if you are interested in streetwear – they give you a massive edge and make you look very cool. People will, at the very least, be intrigued as to why you are wearing sunglasses at night, so give sunglasses a go if you want to make your outfit look ten times better – trust us – streetwear isn't complete until you've got a pair of sunglasses on.
5. Golden Chains
Wearing golden chains has long been a staple of urban streetwear. Some prefer silver, though the consensus is that golden chains are in. Golden chains should always be oversized, loose, and stacked one on top of the other. If you cannot afford to invest in a ton of golden chains, then you can always pick up fake golden chains from designer retailers and urban clothes makers. You could, as we just suggested, opt for silver chains if you cannot afford gold. Silver is still also very popular and can still make a massive statement. Chains are a great way to improve an outfit.
6. Cut-Down Khakis
Cutting your khakis below the knees is a great way to make a bohemian fashion statement. Once your favorite pair of khakis has lived beyond its lifespan, you can cut it below the knees for a distressed pair of khaki shorts. Cut-down khakis are very popular among those who involve themselves in urban fashion. Cut-down khakis are cheap, DIY, and very cool. They are particularly popular among Los Angeles's skater community, which has had an influence on the worldwide urban fashion industry. All you need is a pair of khakis, a ruler, and a pair of scissors.
Now, with this page, you know a few awesome ways to get involved in the urban fashion and streetwear world. Thank you for reading this page – please come back and visit us again soon.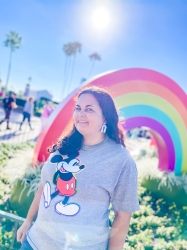 Latest posts by Krystal | Sunny Sweet Days
(see all)