Traveling the World From Home
No matter why you can't leave your home, you don't have to feel as if you are missing out on the excitement the world has to offer. Using the internet, you can travel the world, see the sites, walk through streets, and visit famous attractions. All you have to do is know where you want to go and enjoy the magical ride the pictures have to offer you.
1. Zoos
More zoos than ever before are offering virtual tours of the areas, animals, and cages. Along with the tour, many zoos are using the time to explain how the various animals and reptiles live in the wild and adapt to confined living spaces. Some tour guides also talk about the diets of some of the animals.
2. Museums
Want to see one of the most famous paintings that ever existed? Take a virtual walk through some of the museums around the world. From dinosaurs to reconstructed ancient boats to replicas of prehistoric faces, you can find it all. If you love learning about a specific era, you can even focus on special rooms within each museum.
3. Tours
Have you ever been on a haunted tour around New Orleans or taken a nighttime journey through a haunted castle in Ireland? If not, grab your computer and sign up for one of the many types of tours offered. From a walk around the English royal gardens to a stroll through the Appalachian mountains, you can try it.
4. Homes
Visit mansions and dwellings all over the world from the comfort of your computer chair. Tour luxury homes in Portugal, celebrity houses in the United States, or Yurts in Patagonia. You can also see the different lifestyles various people have as you check out videos on regional cooking.
5. History
If you are a history buff, you can dive deep into your favorite period of the past with the help of the internet. Check out the middle ages, stone age, or renaissance period. Perhaps you would love to find out more about the ancient Greeks, the bronze age, or the Tudor period. You can find information on the clothing, food, and activities of any of the history of humankind you are interested in.
Don't be sad if you are stuck indoors. Check out what you can discover on the internet, and you may find yourself lost in viewing something you love. Take a few minutes to check out where you can travel around the world from the comfort of your home.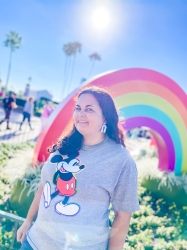 Latest posts by Krystal | Sunny Sweet Days
(see all)