Top Tips For Packing For A City Break
When it comes to a long weekend away, we have all made the mistake of not properly packing. Every time we travel, we forget to pack things such as underwear, pack for the wrong weather, underestimate or overestimate how much we truly need to bring, and we always seem to wind up with shoes that cause sores. We have created the perfect city break packing list to assist you in streamlining your suitcase, ensuring that you only bring things that you will actually wear, and save your poor feet from the blisters that come with travel.
Reliable and comfy shoes
Despite the fact that a city break is an excellent occasion to show off that great new jacket or that outfit that you have had your eye on for months, it is not the best time to invest in a new pair of shoes. When wearing shoes for the first time or for a lengthy period of time, you can almost bet that they will cut your feet to pieces if you do not take precautions. Put on a pair of flat, adorned shoes if you are concerned that your comfortable sneakers will clash with the elegant outfit you have chosen for dinner and cocktails later that evening. Avoid wearing sandals as much as possible; while they are great for the beach, they will not hold up against the paving stones that are commonly seen in city centers.
Layer it up
Instead of wearing heavy, thick sweaters that will make you disintegrate by midday, think about wearing thin, loose layers throughout the day. Things to consider are silk camis with light cashmere knits or knits, long sleeve tops beneath printed dresses, and long sleeve tops under a classic linen dress.  They will take up significantly less space in your suitcase and will not leave you looking like a hot, sweaty mess when you arrive. Additionally, their mixing and matching capabilities provide you with the greatest number of wardrobe options.
Outerwear
Taking a coat or jacket that can be worn during the day and at night will save you space in your luggage. The following are some of your best options: oversized blazers, denim jackets, and/or a classy trench coat in a neutral shade. One that is flexible for all circumstances, is lightweight enough to drape over your arm if it is warm, and can be worn to the airport to conserve crucial suitcase space would be chosen by a clever packer.
Accessorize
Accessories have the ability to enhance or break a look, and when it comes to a city break, they are especially important to have. They take up very little space in your suitcase and can be used to transform a daytime dress into something you can wear to go partying in an instant. A pair of dazzling earrings may transform an ordinary dress into something extraordinary, a silk neck scarf can transform a plain white shirt into something completely different, and an assortment of chunky bangles can transform an ordinary outfit into something intriguing.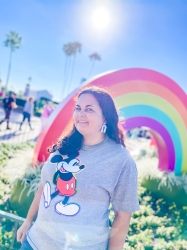 Latest posts by Krystal | Sunny Sweet Days
(see all)