Casual Outfits For Casual Occasions
Are you trying to come up with some casual outfits for casual occasions? It might sound simple but sometimes it can be a little trickier than it first appears. Coming up with casual outfits for these occasions can sometimes feel as though you have been given a task that doesn't have an answer. But, there is an answer, we promise. Keep reading down below if you would like to find out more.
Jeans
The first thing that you need to do is think about getting more pairs of jeans. You should have at least five different pairs of jeans in different colors so that you have a variety, and we recommend having at least one pair of ripped jeans because they are in fashion right now. It's true to say that jeans are the perfect casual outfit. They look great, but they are also comfortable to wear as long as you get the right size. Those people who say that jeans aren't comfortable are also the ones who wear a size down to make themselves feel better. Don't do this, just let yourself be comfortable in them.
Sweaters
Sweaters are another part of your wardrobe that will work perfectly for casual occasions. You can wear a lovely sweater with the jeans that we have just mentioned to create a beautiful look. It will be casual and but still stylish, and you can purchase them from pretty much anywhere. If you don't have enough time to go out to the stores and purchase some new sweaters, you can get them online. Again, you want a range of different colors and styles to give you some variety in your wardrobe.         
TShirts And Cardigans
Tshirts and cardigans are the final thing that we are going to be looking at. Again, there are a range of different options such as thicker cardigans and thinner ones depending on the weather. If you are going for the ultimate casual look, then jeans, a tshirt and a cardigan over the top. You can mix and match this if you want to go for something that's a little more dressy or if you want to go really casual then just opt for plain.
This is one of the most common looks that you see on women, and there is a reason for this. Minimal effort yet fantastic result is always sure to be a winner. It's definitely worth looking into this as an option.
We hope that you have found this article helpful, and now see some of the casual outfits that you can wear for casual occasions. You don't need to go too all out for casual occasions as this is not necessary, you just need something that looks fabulous without putting too much effort into it. It shouldn't be too difficult to achieve, you just need to get a little creative with the things that you have got in your wardrobe. We wish you the very best of luck achieving this look.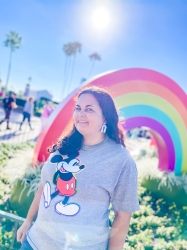 Latest posts by Krystal | Sunny Sweet Days
(see all)