How To Take Your Outfit From Day To Night
Are you going out after work? Do you have to go out for dinner with the in-laws and don't have time to go home after work and change? Don't panic. Use these posts to learn some helpful tips on how to transform your outfit from day to night, and still look appropriate for both times.
It's a few minutes before the end of your workday, and you have plans for the evening. You've had a long, busy week, and you already know that you won't have time to go home before you have to head out for the evening. Maybe you have a date to go to with your latest dating app match, or you're going with the girls for a friend's birthday, or you have dinner with your family. Whatever your plans for the night, you need a simple, fast way to take your work outfit from daytime to nighttime, and still look and feel chic and stylish.
Luckily for you, it can be very easy to transform your outfit from day to night, without having to keep half your wardrobe at work or having to try and get changed in the work toilets. With a few simple accessories, you can pull off an easy transformation in no time at all. Do you need some ideas for how to easily turn your office outfit into something that feels right for heading out on the town? Try some of these tips to get you started.
Change Your Bag
There aren't many things that can make an outfit look dressier than the perfect purse. Leave your usual work purse in your desk, especially if you usually use a briefcase or a tote for work. Swap it out for something a bit more evening-appropriate. Choose something like a stylish mini crossbody or a cool-looking clutch. If you prefer to use a bag that has a strap, choosing the right strap is important. You can make your outfit look cooler with a studded or chain-link strap. A bag with some sparkle is an easy way to add some glitz to your outfit very quickly. Evening bags are usually small, so you can keep one in your desk drawer without it taking up too much extra room.
Ditch Your Business Casual Shoes
Most women have a pair of shoes that makes you feel as though you look a million dollars. If you have a pair of these shoes, they're probably not those sensible black pumps that you wear to the office because they're the right mix of smart and comfortable. When you know you are going to have to go out right after work, bring those killer shoes with you to work (or keep a great pair of shoes under your desk for unplanned nights out) and you can instantly take your outfit to a new level. If you need to, or just prefer to, wear neutral colors for work, then you can choose a brightly colored pair or sparkly pair of shoes to add a real pop to your outfit. You could go even bolder with a pair of animal print shoes. If you wear black to work, leopard print shoes can look amazing. The right shoes will have you looking and feeling amazing, even if you don't change anything else in your outfit.
Add Bold Jewelry
Do you have a jewelry box that is overflowing with bold earrings, statement necklaces, and gorgeous rings and bracelets? You can buy some gorgeous statement pieces of jewelry from sites like Jcunicorn. If you have great jewelry, make it work for you by using them to accessorize your work outfits. Choose a few pieces and pop them in your work bag to take with you. After work, you can swap your simple, office-appropriate jewelry for something bigger and more appropriate for the evening. The right necklace can take a white shirt from the basic office wardrobe to the dance floor very easily.
Dress In Layers
If you usually wear light layers in the office, you can adjust those layers to make an evening outfit. For example, if you usually wear a sleeveless top under your blazer, you probably keep it hidden under your jacket for your workday. However, it could be the perfect option for going out. When you get dressed for work in the morning, choose a tank top that is conservative enough for work when you wear it under a blazer or a cardigan, but that is sexy enough for your night out. When you leave work, take off your jacket, and you're ready to go.
Dressing in layers can also enable you to start with something simple, like the classic little back dress, that is completely suitable for both work and a night out. You can wear the dress with a stylish jacket for work, and then take it off when you leave the office, to show a bit more skin for your night out on the town.
Change Your Makeup
Most people wear conservative makeup to the office. Many women choose to just put on some foundation, some simple eyeshadow, and some mascara and don't really go all out with a full-face look for work.
Pop your makeup bag into your work bag when you head out for the office in the morning, and then if you have a few minutes to spare before you need to leave for your date, dinner, or party, you can really change your whole look by just reapplying your makeup, or adding some more makeup on top of your simple office face. Instead of the neutral eyeshadow, replace it with something bolder or darker. You could keep your neutral shadow if you don't have time to take it off and reapply and instead some drama with more mascara, or a cat-eye liner look. Put on some highlighter to contour your face a bit, and give your cheeks some color with a touch of blusher or bronzer. Add some lipstick, and you will look very different from your simple office self.  If you don't have room to fit your whole makeup bag in your work gear, just put in a tube of your favorite Jonteblu lipstick. A swipe of bright lipstick takes seconds to do, but can make a big difference to the way that you look. 
Let Your Hair Down
Do you usually tie your hair back out of your face for work? If you do, let it down when you leave the office for a sexy, fun look for the evening. If you usually wear your hair in a bun during the day, letting it down will give you some serious volume and waves that instantly boost your look into something new and more evening-appropriate.
If your work means that you have to keep your hair a conservative color, but usually, you're more of a bright hair color girl, you can add some fun color to your hair with a hair mascara. Use it to give yourself some highlights, coordinate them with your outfit, or use a bright color to pop against a neutral outfit. If you're going to be going to a club, you can add a little bit of glitter hairspray to take you from the desk to the disco. Just don't apply this spray in your office bathroom. Glitter gets everywhere, and covering the office bathroom in sparkles probably won't be seen as something very professional to do, as much as it might be fun.
Think Outside The Box
When you're trying to think of ways to transform your look from day to night, remember to embrace your own unique style. You don't have to look like everyone else or follow someone else's idea of what an evening outfit should be. If you usually like to wear a t-shirt, jeans, and sneakers during the day, you can absolutely build your nighttime outfit on this too. For example, you can make this simple look more exciting by just taking off your sneakers and recapping them with a pair of knee-high boots. If you love to accessorize with scarves during the day, choose one to use as a belt to add interest to a nighttime outfit. There are lots of ways to incorporate your personal style into fun ways to elevate an outfit from the office to a night out. Even something as small as changing your glasses out for contacts can completely change the way you look and have you feeling ready for your night out.
Don't Overthink It
Someone just invited you out after work, and you don't have anything with you to change up your look. Don't feel as though you should turn it down and only go when you're prepared. You might prefer to be dressed up for the occasion when you go out, but there's no need to turn down doing something fun just because you don't have the right shoes with you. They've invited you out because they want to see you, not your clothes.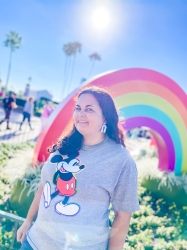 Latest posts by Krystal | Sunny Sweet Days
(see all)