How Young Couples Can Maintain a Healthy and Thriving Romantic Relationship
Are you currently in a serious relationship and wondering how you can help keep it healthy and thriving for the long term? Whether you and your partners have expert level relationship expertise or whether it's the first grown-up relationship for both of you, you can always improve your relationship by focusing on fostering your and your partner's happiness and well-being. As a young couple, you can take advantage of this early stage in your relationship to set a strong foundation for the future. Here's how you and your partner can keep the romance alive and foster a healthy relationship for years to come – while having some fun along the way!
Try Spontaneous New Activities as a Couple
Even if you just recently began your relationship, trying new activities together can be a great way to grow as a couple, learn new things about each other, and bond over shared experiences! You can be as tame or as adventurous as you want, but adding a little spontaneity into your relationship could go a long way towards keeping things fresh and spicy. At your next hangout, try something that's been on one of your bucket lists for a while! For instance, you may want to:
Venture into a new neighborhood
Take a weekend trip to a new location
Try out that new brewery or restaurant in town
Go jet skiing
Go skydiving
Head to a local winery for a wine tasting
Set Aside Time for a Romantic Date Night Every Week
Having regular chunks of time set aside just for each other is an essential part of staying connected with each other and keeping lines of communication open, especially if you both have hectic schedules that don't allow for too much dating impulsiveness. You may want to schedule a romantic date night once a week and use it as an opportunity to catch up with each other, listen to each other's feelings, and dive into some relaxing bonding time.
Spend a Little Time Pampering Yourself To Regain Your Confidence
While it's important to pamper your partner in a relationship, it's also important to make sure you continue looking after yourself as well! Simply being in a relationship does not mean it's healthy to neglect your own well-being. In fact, ignoring your own needs could cause your confidence to plummet, which in turn could negatively affect your relationship. In order to bring your confidence levels back up, make sure to spend a little time pampering yourself on a regular basis.
Put Each Other First and Find Small Ways To Make Your Lives Easier
Part of being in a healthy relationship is making sure your partner knows how important he or she is to you, as well as feeling comfortable in the knowledge that he or she feels the same about you. You don't have to constantly tell your partner how much you care – instead, try showing your affections through acts of kindness. For instance, you can easily put your partner first every day by doing small acts that you know will put a smile on his or her face. For example, you could try:
Doing your partner's chores without being asked
Writing your partner a small note of appreciation and tucking it into his or her lunch
Booking a special trip or a restaurant reservation just for the two of you
Maintain Your Own Interests in a Healthy Way
Even though it's important to support each other in your relationship, don't forget to maintain your own individual interests as well! Although it might sound counterintuitive, studies have shown that couples tend to enjoy stronger relationships when they have their own hobbies, passions, and interests outside of the relationship. This could mean continuing to pursue separate careers or hobbies, for instance, while still dedicating time to each other. You may find that seeing your partner thrive in his or her own interests makes your relationship healthier and more resilient! This is why it is always important to vocalize your interests and needs no matter the subject. If you are looking for ways to rejuvenate things in the bedroom, bring up the idea of visiting an adult toy shop. This a perfectly healthy way to keep both partners interested and experiment in something one may be into.
Even the happiest young couples can build a strong foundation for their future by dedicating more time to fostering a truly healthy relationship. Whether you've just recently made things official or you've already been together for a while, your relationship could benefit from implementing some or all of these fun ideas!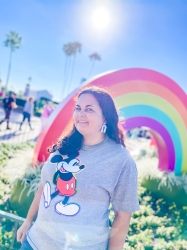 Latest posts by Krystal | Sunny Sweet Days
(see all)