Celebrating Childcare With Community-Building Events
Having children is the mark of a significant step toward responsibility. But for both new and experienced parents, being accountable for little lives can be overwhelming. As a result, online parenting groups have made sharing stories and advice about childcare hits and misses an open topic. It eliminates the taboo of keeping parenting private and instead encourages you to talk about the challenges you face with raising, fostering, and adopting a child.
Although many of these remain online, physical meet-ups per state, country, or city are not uncommon. According to landmarkeventco.com, parental meet-ups that give parents a break by celebrating small victories and opening a platform for interpersonal sharing are becoming more common in this increasingly digital world.
Talking About Children  
Encouraging the discourse about children is helpful on many levels, especially to new parents who are not confident about what they are doing. And from an experienced parent's standpoint, there are many things that they do out of habit, but may no longer be efficient. For instance, digital use is a highly controversial topic that has divided the parenting world since the consumer accessibility to televisions, computers, and cellphones.
This generation's 20-somethings will remember the 2-hour a day rule for watching their favorite television shows, reserved for the 6 PM premiere of a favorite cartoon. They saw loosening rules on digital use, from 2 hours a day, to "as long as your homework is done" and eventually free reign over smartphones and laptops. 
But even with the digitally-forward personality of the world today, parents still cannot decide on what to do for their kids. And that is why talking about it, engaging in friendly debates, and not keeping opinions about the matter to oneself is vital in the parenting community.
Breaking Barriers Between Difficult Topics  
The problem with online groups is that they are mainly on the internet and open for the public to see. Not everyone is comfortable with publishing their opinions and stories online, especially when it involves difficult topics such as fostering, mental health, and children in critical condition. An in-person meet-up breaks down the digital barriers and makes it easier to talk about these things, without worrying about anonymity or the public's eye.
You can talk about stories about fostering children and the difficulties with letting go of a child you loved. You can also discuss the challenges of raising internationally-adopted children. It can be hard for them to feel like they belong to a family where everyone looks physically different, and other parents who have experienced the same circumstances can give you advice on what to do. In a real-world discussion, you are free to emotionally break down, express everything you feel, and open your heart to others without burden.
Celebrating Milestones 
As with any event, getting together entails celebrating milestones and small victories. Whether they are little things such as a child finally learning the multiplication table, or significant events such as an adoption going through — everything can be celebrated with an event dedicated to your parenting milestones. But this time, you are doing it with a wonderful support group, accompanied by a few glasses of wine.
Ultimately, it is refreshing to meet friends you have been talking to for years online. Putting faces and personalities to online personas and getting to know them and even making new friends are all empowering in a world where it is tough to be a parent. And these are all possible with an event dedicated to parenting and childcare.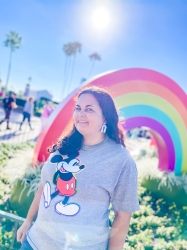 Latest posts by Krystal | Sunny Sweet Days
(see all)