We were up early because we were both so excited to see Honduras. When we got into port we were disappointed to see the man-made Carnival beach and tacky surrounding area. Sure, it was nice, but we wanted adventure! We knew the island was beautiful and we wanted to see more. We had no plan and no clue where we were going…but we just started to walk. We walked down a big hill, through a gate, and saw a ton of taxi drivers. We took a risk and hopped in the pickup truck of someone named Larry.
Larry took us ALL Around the island and we settled on a beach on the opposite side of the island at the Bananarama bar. I think it was a hotel too. Either way, they had 2.50 rum punches. SO MUCH CHEAPER than the fake Honduras Carnival tried to get us to stay at. Hmph. Thankfully our tour guide was not a murderer, but he was a crazy driver. We drove up and down the hills and saw beautiful cliffs. I was so scared that his truck was going to tumble off the road.
Roatan from our balcony
The beach we were dropped off at
Bananarama? Sure!

Reading material appropriate for a honeymoon!

There's a lil' rum in those cups…

Beautiful!

Honduran beer

View from our tour of the island

With our guide
He left this random 13 year old boy with us to watch our stuff while we swam and to show us the reefs offshore. This was weird but whatever. The kid was nice and he showed my new husband some neat stuff in the water. They snorkeled while I read and drank.
Once back on the boat we ate tons of food. We attended the Carnival Past Guest reception which ruled because it had free alcohol.
We took a nap. We went for more TV trivia. I had lamb for dinner and it was amazing. And, again, I totally was asleep by 10 p.m. Winner.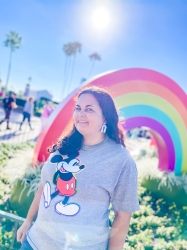 Latest posts by Krystal | Sunny Sweet Days
(see all)