How to Decorate and Enjoy Your Porch Swing
A porch swing is a suspended bench on your yard that can be used to swing, relax, or add beauty to the outdoor environment. A lot of people consider it as one of the best accessories that one should have in their yard. Porch swings provide an individual with plenty of health benefits, thus explaining the more reason you should have one.
How to decorate porch swings
Porch swings come in different designs and sizes. Given that every person has their taste, it is up to you to choose a design that best suits your preferences. Once you have bought a swing that you find most suitable, you can make it look better using some of these decoration ideas.
You can add colorful throw pillows depending on the swing's color. Bright colors always create an amazing feature for your backyard. If you use bright colors, the swing would be noticeable from a distance, thus enhancing the beauty of your outdoor environment.
Depending on your taste, you can have the swing repainted to make it more appealing. A lot of people tend to go for the sleek modern style. If you are not one of those people, there is no harm in preferring traditional designs. The best part is that you can redecorate the porch swing as often as you wish.
The surrounding area can also contribute to how much the swing pops out in the environment. You do not want to have thick bushes around your swing since this reduces its visibility. It is also a health hazard since the bushes can harbor harmful animals such as snakes. This means that your swing needs to be on the open. It is an accessory that will be used by kids to plays and hence, ought to be secure as much as possible.
One way to decorate the surrounding environment is by growing beautiful flowers. As you sit on the swing, you will need a beautiful view to help you relax your mind. Such a view can best be created by having a beautiful surrounding. You can also choose to place the swing next to a water feature like pools or waterfalls. This will provide you with both an amazing view and a cool breeze from the water.
Health benefits
A porch swing is a great way to relax your mind. Such relaxation will help reduce the stress levels in your body. The rocking motion of the chair helps in reducing your heart rate and breathing. This is a condition necessary for the reduction of stress levels in the body. The swinging can also bring back good memories that will make you happy. If you feel stressed, swinging every day after work can help reduce the stress levels. If you want to facilitate the process of stress reduction, you can swing during the evening as you watch the sunset. The sunset period gives an amazing view which helps relax the mind.
Improves blood circulation
Some medical experts point out that swinging can help improve blood circulation. This is why singing helps reduce or relieve back pain and other aches in your body. If you have a swing in your yard, it is necessary to spare an hour every day to swing. Sports are a way of improving blood circulation. Swinging gets your body moving, hence serving the same purpose. It is a nice way of keeping the elderly active without them having to go through much hustle.
A perfect way to get vitamin D
Exposing your body to some amount of sunshine every day allows y to get vitamin D. The vitamin helps in keeping a strong immune system. Sitting under the hot sun might not be a desirable act. However, if you do it while swinging, you will not realize how hot the sun is. You only need a few minutes of swinging, and your body will have obtained vitamin D.
Porch swings are a reminder of traditional leisure. Hence, you can complete the entire experience by taking a cup of hot tea or coffee as you watch the sunset. Among the best thing about this feature is that it has no age limit. You can use it, and your kids can play on it as much as they want. All you have to do is ensure that it is always in good condition. You do not want you or your kids falling from the swing. Regular inspections are important to ensure the swing is not a health hazard.
Swinging is a great way to get fresh air after a long day's activities. If you do not have a swing in your yard, you should be thinking about getting one. It will be a beautiful piece in the outdoor environment and still provide health benefits. There are plenty of designs from which you can choose to match your taste ad budget.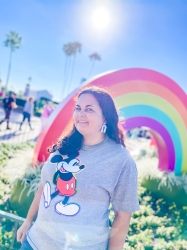 Latest posts by Krystal | Sunny Sweet Days
(see all)