Dollar Store Pet Shopping List
Each and every week, I'll be sharing easy ways to maximize your dollar at your local dollar store. From five dollar meal ideas to closet organization, you can find a LOT for just a buck. Don't miss an update, and sign up for my mailing list.

Do you have a pet you love to spoil? If so, your local Dollar Tree can be a great place to find what you need to get the job done. Dollar Tree has a great selection of pet products for just a buck, making your job as a pet parent an easier one. We have two dogs currently, but at one point we had three. They were all adopted, and they are a part of our family. I usually stock up on extras at the dollar store for our furry family since the prices are so low!
1. Toys. The pull toys at Dollar Tree are of excellent quality and can provide your dog with hours of chewing and pulling fun. If your dog likes to gnaw or your cat likes to pull, grab a chew toy or pull toy from Dollar Tree for them to enjoy. The plush toy inventory at Dollar Tree is always changing too. Find plush toys, ones that make noise, and ones  roll and shake. Your pet is sure to be entertained.
2. Bite-sized treats. If you like to give your precious pet bite-sized treats, Dollar Tree has them. Find all of the treats your dog or cat needs at great price. These are perfect to have on hand for training, rewards, and more.
3. Feeding dishes. Treat your pet to a new feeding dish from Dollar Tree. They have many varieties to choose from and all are durable, easy to clean, and so colorful.
4. Brushes. What pet doesn't love to be combed or brushed? Browse your local Dollar Tree for pet brushes perfect for keeping their coats shiny and clean. Our Chow mix always needs a good brushing since he is SO furry!

5. Collars. Dollar Tree does carry a variety of collars, but they are intended more for small dogs or cats. If you have a petite pet, see what your Dollar Tree has to offer. They also have harnesses too.
6. Cleaning supplies. From pet urine remover solution to fabric refresher, there are several items you will need for your home when you have pets.

7. Rawhides. Don't spend as much as $1 each for rawhides at retail stores. You can snag a whole bag for just $1 at Dollar Tree! They keep teeth clean and will satisfy your dog's need to gnaw.
8. Frisbees and tennis balls. The children's toy aisle sometimes has great ideas for both humans and furry friends. Our dogs go through tennis balls SO fast that it doesn't make sense to buy them for more than a $1.
9. Dog shampoo. We always have a variety of pet shampoos including dollar store versions! I would not recommend any flea treatments or flea baths. They are made of mostly water and won't get the job done. Instead, opt for a vet recommended wash or prescription grade wash to treat fleas. If you just need a quick wash for your pet, the dollar store version is just fine.
10. Dog waste bags. You never know when you're going to need one!
What's on your pet shopping list? What is a MUST HAVE when you're a new pet owner?
Pet Tips For Busy Parents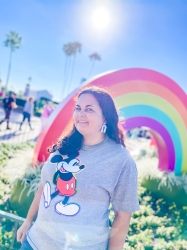 Latest posts by Krystal | Sunny Sweet Days
(see all)