Patriotic Barbecues 101: How to Plan a Truly Epic Celebration
Whether you're planning a Labor Day barbecue that's sure to end your summer on a high note or simply feel like randomly celebrating American life with your favorite people, a barbecue is literally never a bad idea. Great music, good company, and incredible food are just a few of the things that make a barbecue a guaranteed crowd-pleaser.
But there's a fine art to turning your patriotic barbecue into a genuine event people will be talking about for years to come. Here are some pointers to get you started in the right direction.
Start by planning your space
Your choice of venue can make or break your barbecue, so it's important to give it some real thought. Are you planning an intimate gathering strictly for close friends and family, or are you picturing an epic blowout with a huge guest list?
If your backyard or patio is ample enough to accommodate everyone, it's a great choice. But don't be afraid to think outside the box and consider someplace bigger, like an idyllic nearby park or even your local community center.
And don't forget to bring the scene to life with the right décor. Nothing says "patriotism" like plenty of red, white, and blue. Add a couple of American flags and perhaps some fun extras to bring your signature touch into things, as well.
Plan an all-American menu
What would a patriotic barbecue be without all the incredible food your guests can eat? The bigger your barbecue, the more epic your menu ultimately needs to be, so don't be afraid to pull out all the stops. Definitely serve all your signature classics and specialties, but try out some new barbecue recipes, too.
Include plenty of classic American fare, like cheeseburgers, hot dogs, corn on the cob, and potato salad. But strike a good balance between hearty and fresh by also including fresh garden salads or colorful seasonal fruit selections. It's a fantastic way to showcase (and celebrate) all the bounty America is famous for.
Add some activities to the mix
While there's nothing wrong with simply hanging out with loved ones while enjoying some great eats and even better tunes, don't sleep on the idea of also planning a few fun activities to enjoy. Activities help bring people together and can really help a celebration feel extra special.
Consider your crowd when deciding which options are best. Are you planning a multi-generation family get-together complete with children? Try some fun classics everyone can enjoy like a water balloon toss or a horseshoe court. Is it just going to be you and the guys? Tell your guests to show up in their coolest men's patriotic t-shirts and have a contest. Be creative!
And don't be afraid to come up with even more fantastic patriotic ideas of your own. Patriotism, barbecues, and America are all about people coming together to celebrate what really matters. So, decide what that means to you, and implement your own unique ways to bring your event to life.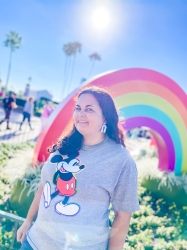 Latest posts by Krystal | Sunny Sweet Days
(see all)