Top Meaningful Gift Ideas That Will Make Your Partner Happy
When it comes to gift-giving, most of us feel the pressure to give something that is both unique and meaningful as we want to show our loved ones just how much they mean to us. A perfect gift should not only be personal but will also need to reflect the relationship you two have. With so many different gift options available, it can be tough to decide on the right one. So, If you're stuck on what to give your partner for your next important milestone, here are some of the most meaningful gift ideas that will make them happy.
Tickets to a Concert or a Play
If your loved one enjoys live music or theatre, then getting them tickets to their favorite band's concert or the latest Broadway show is a great way to show how much you care. Not only will they appreciate the thoughtfulness, but it will also be a fun date night for the two of you to enjoy together. If your budget allows it, you may even try to get tickets that are in the front row or VIP so that they can have an even better experience. Just make sure to check their schedule in advance so that you can get the tickets on time.
A Custom-made Piece of Jewelry
Jewelry is always a classic gift option, but if you want to make it extra special, consider having a piece custom-made just for them. Luckily, there are many different ways you can customize it. With the custom made jewelry from lexiejordanjewelry.com, you can add your partner's birthstone, engrave their initials, or even have a message of love inscribed. This will create a one-of-a-kind piece that will perfectly symbolize your relationship and how much you care. And whether it's a diamond necklace or a simple silver bracelet, they'll be sure to cherish it for years to come. They will always think of you whenever they wear it and it will serve as a beautiful reminder of your relationship.
A Weekend Away
Sometimes, the best gift you can give is your time. If you're both always busy with work and other commitments, then planning a weekend getaway together can be the perfect way to relax and spend some quality time together. It doesn't have to be anything fancy, but even just booking a cozy cabin in the woods or a beach house for a few days can be a great way to unwind and reconnect. Plus, it will be something that you can both look forward to and plan together, which can make the experience even more special.
A Day of Pampering
Everyone could use a day of pampering, and your partner is no exception. Whether it's a massage or a day at the spa, they're sure to appreciate some time to relax and rejuvenate. Plus, it's a great way to show your partner how much you care about their well-being. If you want to make it extra special, you may even want to book a couples' massage or spa day so that you can enjoy it together. You can even organize a home spa day if you're on a budget. In this case, you can even cook their favorite meal, buy them some flowers, and put on a movie or music they love. It will be a day they'll always remember.
A Customized Photo Album
One of the most personal gifts that you can give is a customized photo album. This could include photos of the two of you from throughout your relationship, or even favorite family photos. Not only will it be a beautiful way to look back on your memories, but it will also show your partner just how much you care about them and appreciate them. Plus, if you're feeling crafty, you can even make the album yourself. All you have to do is gather up some of your favorite photos and put them together in a scrapbook or photo album. Just make sure to add some personal touches, like handwritten notes or captions, to make it extra special.
A Donation in Their Name
If your partner is someone who is always giving back to others, then consider donating in their name. This could be to their favorite charity or cause. Not only will they appreciate the thoughtfulness, but it will also show them that you support their values. Plus, it's a great way to give back to the community together. If you're not sure where to start, try looking for local charities or causes that are near and dear to your partner's heart.
As you can see, many different gift ideas will make your partner happy. So no matter what your budget or interests are, there's sure to be something perfect for you both. Just take your time and think about what would mean the most to them. And most importantly, enjoy spending time together and creating new memories.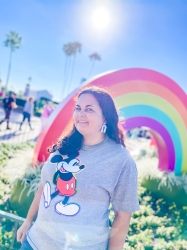 Latest posts by Krystal | Sunny Sweet Days
(see all)