Laundry Room Cleaning Checklist
It's time to celebrate National Laundry Day today and EVERY day. Laundry can be overwhelming, and without a routine in place, you can easily find yourself overworked and drowning in piles of dirty clothes! Plus, if you're using the WRONG detergent… it will only set you up for stains that don't come out and having to re-run your washing machine multiple times to get your clothes as clean as they can be.
all® Free Clear helps busy families do their laundry while using gentle ingredients for sensitive skin. Skip the overpriced baby detergent – this is the detergent we have used since my son was born. I don't have sensitive skin, but I prefer this since it doesn't have a strong smell. Plus, all® free clear is the #1 recommended brand by dermatologists, allergists and pediatricians for skin sensitivity.
Laundry Room Spring Cleaning
Follow this checklist to help you get your laundry room ready to go for this year.
First, let's do ALL of the laundry in your home. No dirty sock goes uncleaned! When all of the clothes are clean, tackling your laundry room for spring cleaning will be much easier.
Pull out washer and dryer and deep clean behind them. A lot of lint can build up so this could be a messy job.
Check the exhaust vent from the dryer to the outside. Make sure to clean it out, being careful not to tear it.
Wipe down the ceiling and the walls.
Run an empty load in the washing machine, using bleach or vinegar, to disinfect it.
Wipe down the outside of the appliances.
Sweep and mop the floor, especially behind and under the washer and dryer while you have them pulled out.
Inspect hoses and cords to make sure they are in good shape.
Purchase enough detergent for the year. I find that buying in bulk helps save throughout the year.
Invest in a drying rack if you don't already have one. This will help streamline the laundry process when certain items need to be air dried.
Give every member in your house a different laundry basket. They should take ownership of their "basket," and cart it to the laundry room when it is full. Wear, rinse, repeat.
Laundry Cleaning Checklist
Cleaning Checklists and Printables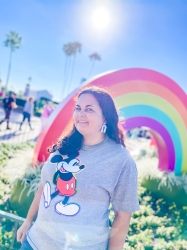 Latest posts by Krystal | Sunny Sweet Days
(see all)