Introduce 1 Thing To Live Healthier This Year
Health and Success! There are so many people out there that want the best for themselves and their families. We all know someone who has been wanting to change something about themselves or something they have done in the past year. Well, we've got you!
Here are seven steps to consider when wanting to live healthier this year:
1. Step Out Of Your Comfort Zone
We all know that throughout the year everyone on Facebook or Instagram changes their profile picture to a happy image and states what goal they want to accomplish next. Well, what better time to start your healthy living than now! This way, you will get over the fact that "everyone else is doing it" and be held accountable.
How? Easy, join a gym, run outside, or buy some home workout programs. If you're busy like most people and don't want to go to a gym or can't afford home workout programs, then join a running team, get on your computer and Google some workout videos!
2. Find Your Why & Determine How You Will Reach Your Goal
Losing weight can be discouraging if you're working your butt off for weeks, but no results show up. Why? Because you have not found your "why" yet. What is your WHY? Your why will be the main thing that will keep you going when you feel like giving up or can't push yourself any longer. It's what keeps you going!
Just ask yourself:
What is my WHY? I want to feel better, have more energy, and have been wanting to have a healthier lifestyle for the longest time.
How will I reach my goal? I'm going to go out and join a gym or put together a weekly routine that works for me to lose weight by eating healthy & working out.
3. Make Sure You Write It Down
Writing down your goals is important because you're not only telling the world, but you're also holding yourself accountable for what you want to achieve. If you think about it, if you write this down, then that means you have to go out and do it! It's called positive reinforcement. Write your goals down on a piece of paper or post them somewhere so when you see them daily; you will be reminded to go for it!
4. Include In Your New Life Plan
So you've made it to the nearest facility and attended your gym's "kick-starter" or found some workout programs that work for you. Good job! Now what? Well, now it is time to put this into your schedule. How will you manage your time with what you want to accomplish? Is it too much? Will you skip workouts? How about sleeping? This is important. If you're new to working out, then 2-3 times a week will suffice for this first month or two.
5. Get Support
Chances are, you know someone who can help keep you accountable, motivate you, or at least would like to share their journey with you. Why not ask them for help? You could even create a group chat and message each other before and after workouts! This way, you will hold each other accountable and also encourage one another as well as give advice if needed. Motivation is key.
6. Eat A Balanced Diet
We all know what a healthy diet consists of non-processed food and lots of fruits and veggies! If you're like most people, then finding time to prepare your own meals can be difficult. Those long workdays end up leaving us with no time or energy to cook after busting our butt off all day.
So, what do you do?
Easy meal prep! A lot of people prepare meals, but most don't know where to start or how to do it correctly. It's easier than you think and will actually save you time in the long run. So if you do not have time to cook during the week, save some healthy recipes on Pinterest, and always remember to bring snacks with you!
Bonus Tip:
Quit drinking alcohol. This is one of the most beneficial things you can do and your body will thank you later. If you struggle with this, remember that the best rehabs are available to you and will guide you every step of the way.
7. Make Sure To Have Fun & Be Safe
Working out should be fun!! If your workouts are no longer enjoyable, then it's time for a change. Are you doing activities you enjoy? Maybe try learning a new sport or working out with a friend!
There You Have It
Working out can be dangerous if not done the right way, so always remember to stretch before and after any workout. Always have your doctor's approval before starting anything new too!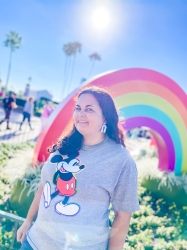 Latest posts by Krystal | Sunny Sweet Days
(see all)