How To Stage Your Home For Sale
When you're selling your home, you want it to look as good as possible for any potential buyers who come inside. This is where home staging comes in.
Home staging is a way of decorating that is meant to show off your home's best assets, and help buyers to imagine themselves moving in and living there. If you can get it right, you should have no problem selling your home quickly, especially with a real estate agent like Compass.
Many buyer's agents believe that home staging has an effect on the way a buyer views a house because it makes it easier for buyers to see the property as their own. Seller's agents think that staging can actually increase the value of your home, and can significantly reduce how long it spends on the market.
With so many benefits, it makes sense to put the effort into staging your home. Luckily, some of the best staging tips don't have to cost much to do. Try these staging tips to help your home sell faster and for more money.
Stage Where It Counts
Not all rooms are equal when it comes to staging. Focus your efforts on the rooms that have the most potential to influence buyers' decisions and spend less time on rooms that make less of a difference.
The rooms that are most important to most buyers are the living room, master bedroom, and kitchen. Focus your efforts mostly on these rooms when you're staging. Don't worry as much about other rooms, like guest rooms, kids' rooms and bathrooms. On the other hand, if you decide to sell your house as-is for cash to the cash buyer this won't be necessary. In fact, you can save time and money and still get a fair deal for your home. If you live in Jacksonville, search for "we buy houses in Jacksonville FL" and you'll find many cash buyers who can offer you a fair deal for your house quickly– no staging needed. But if you decide to go through the traditional route of selling your home, staging is important to help it stand out from the competition.
Depersonalize The Space
One of the main purposes of home staging is to help prospective buyers to visualize themselves in the space. The easiest way to do this is to offer as much of a blank canvas as you can. You want the property to look stylish and be charming, but remove personal touches that suggest it belongs to you and not the buyer.
Start by taking out personal photos. Keep our clothes stored away and out of sight, and clear bathroom counters of personal items. Take out anything that is obviously religious too. Depersonalizing your home can make it seem strange to live in, but it is very useful to help buyers to connect with the property.
Get Rid Of Clutter
Clutter takes up space, and space can sell a house. Help your home to look bigger and more desirable by editing the clutter down to the basics. You don't have to completely get rid of things, but it's a good idea to pack some things up and store them out of sight or out of the house. This could include out of season clothes (for example, don't crowd the front hall with coats hanging up if you're selling in the summer), some of your decor (keep a few select, subtle pieces), papers, games, and anything else that you don't need on a day-to-day basis. Buyers will be opening closets and cupboards to see how much storage the home has, so make sure these are tidy and clutter-free too. Take your time taking out as many non-essential items as you can. The less clutter you have, the bigger the house will look, and the more appealing it will be to buyers.
Clean Like You've Never Cleaned Before
Spring cleaning is nothing compared to the cleaning that you should do when you put your home on the market. You want every centimetre of your house to shine, from the baseboards to the corners of the ceilings, and everywhere in between. A home that is very clean tells buyers that the current owners have taken good care of the whole house and that this goes beyond the basics of cleaning the kitchen countertops. If you've been putting off tasks like cleaning on top of your kitchen cabinets or dusting the window blinds, now's the time to get it done. A deep clean is a good idea before you move out anyway, so get started while you're selling.
Patch And Repair
Home staging is a good time to take on any little nicks, dents, scratches, holes, and other signs of damage or neglect around the house. Get a melamine foam eraser pad and go through every room to remove any scuff marks from the walls. Keep an eye out for any areas that could use some extra care. Go back and spackle and caulk if you find bigger holes. You might also need to touch up some paint if you notice any areas where the paint has been chipped. Just like with the deep clean, the idea is to show potential buyers that you have been caring for the property so it is well-maintained, as well as making the place look nice for viewings.
Go Neutral
This tip takes a bit more time and money, but it can make a huge difference when it comes to the sales price you can get and how long the property stays on the market. Bright colors on the walls are a great way to show off your personality, but they can be a big turn-off for potential buyers. When you are working on staging your home, one of the best things that you can do is to paint over any bright colors with something more neutral, like gray, white, or taupe. Bold colors can distract from the assets f a room. Like photos and clothes, colors are a sign of the home's past, not it's future. Buyers might love bright colors themselves, but a neutral home gives them the option to do that or not, and choose what they like.
Make A Good First Impression
The first thing that a buyer will see when they approach your house for a viewing is the front entrance, so you want to make sure it makes a strong positive first impression. Take out any kind of seasonal decorations, which can date a house for both pictures and viewings. If you have a front stoop, get it power ashed or at least scrub away any dirt. Add a touch of something that feels homey, such as a doormat or a couple of potted plants. Make sure any plants you use are in good condition. No dead or dying plants! Keep it simple but welcoming so buyers start with a good impression and feel excited about what's to come inside the house.
Focus On Fresh
Too many extra items in the house can detract from the idea of its value, but a few well-cared-for, well-placed plants and flowers can add some life and freshness into the space, without adding too much of your own personality to the house. Space them out so you don't clutter an area, but put something fresh in all of the areas that matter most. Put a vase full of bright flowers in the middle of the kitchen table, a small potted plant or some succulents in the living room, and a larger potted plant in the corner. If you don't have the time or the skill to look after fresh plants, you can buy fake plants for the same atmospere without the work.
Another part of that fresh feeling is the smell. A deep clean should shift any lingering odors, but make sure you take out the trash before every viewing, sp buyers aren't met by unpleasant smells. Install a small scented plug-in in some rooms. Keep it on the low setting if you do this. You want the smell to be subtle, not overwhelming.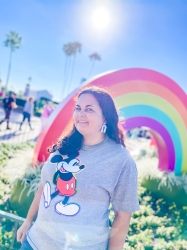 Latest posts by Krystal | Sunny Sweet Days
(see all)