How to make your home life more efficient
Want to spend more time relaxing? Wish you didn't have to spend as much time doing household chores? Well, there are a number of ways to make your life more efficient. Using these simple hacks, you can increase the efficiency of your day-to-day life. Here's how to make your home life more efficient. Read more…
Plan and prepare
Planning and preparation are key to making your life more efficient. You need to make a simple plan for your weekly shop, daily chores, and anything else that gets in the way of your chill time. For example, you can plan all of your meals at the start of the week and even prepare some of them. This will save you time after each day at work.
Get organized
Organization is also key to making your life more efficient. Spend some time getting your home organized and you will find that everything else falls into place. You can start with your wardrobe, then move to your kitchen, and finally start looking at any paperwork that needs doing. These three areas are often the most unorganized in people's lives, so it's a great place to start.
Set clear goals
If you know what you need to achieve at the start of each week, it's far easier to be efficient with your time. For example, if you want to get yourself out of debt in the space of one year, you can start to work out how much you need to save in each paycheck.
Establish household routines
Simple household routines can increase your efficiency considerably. For example, if you start each day with 20 minutes of cleaning, you will never have to do a deep clean. If you wash the dishes immediately after eating, they will never pile up on the kitchen counter. Simple household routines are a great way to start becoming more efficient.
Get food delivered
To make your home life more efficient, you need to cut down on any unnecessary tasks. For example, you can spend two hours each week going to the store and getting food or you can get it delivered. Using a service like Fruit in the Box, you can get healthy food delivered to your front door.
Declutter your clothes
Most people have wardrobes full of clothes that they never wear. If that sounds like you, you're probably wasting valuable time choosing something to wear. That's why you should declutter your clothes. Start by removing every clothing item that you haven't worn in over a year and either sell them or give them to charity. This will give you more closet space and save you time.
Analyze your time
To become truly efficient, you need to analyze your time. Keep a diary and try to note down any time you have wasted. This will help you to identify areas in your life that you can make more efficient. For example, if you note down that you spend 7 hours a week cooking, you can cut that down by preparing batch meals. If you spend 3.5 hours a week cleaning, you could hire a weekly cleaner.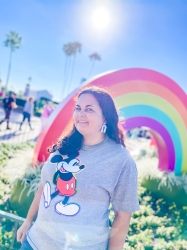 Latest posts by Krystal | Sunny Sweet Days
(see all)