Traits of Successful and Happy People
Ever look at someone and wonder how they are so happy and successful? Don't worry; everyone does it. However, if you want to achieve that in your own life, you need to work at it. The first step is understanding what makes them tick. Here are the main traits of successful and happy people. 
They savor the moment
If you find yourself constantly ruminating about the past or dreaming about the future, you're getting it wrong. You should be savoring the moment. Whether it's a beautiful sunrise on your drive to work, a funny joke you heard, or a nice lunch, savor every moment you enjoy. Stop waiting for something better to come along.
They meditate daily
Meditation is one of the secrets to success and happiness. Putting aside just 30 minutes every day to reflect will improve your mood, focus, and determination. At first, it will seem like a challenge, but it will quickly become a crucial part of your daily routine. And you will never look back.
They don't hold on to grudges
Are you still angry about something that an ex-friend said ten years ago? You need to let it go. You will gain nothing from holding a grudge, which is why happy and successful people don't do it. You don't have to forgive everyone, but just don't waste your time thinking about it.
They spend money on others
Spending money on others is a common trait of happy and successful people. If you are fortunate enough to have some money, share the love with your friends and family. They will be super grateful, and you will get a real sense of joy from doing it. At the very least, buy a round of drinks in the bar.
They're busy but not rushed
A busy schedule isn't a bad thing. In fact, having a busy life is something that makes a lot of people happy. However, you will notice that happy and successful people are never rushed. They are prepared for the day's events and take everything in their stride. Plan your week and give yourself plenty of time to get to work, meetings, and other appointments.
They make time for their own health
Ever noticed that happy and successful people are always in good shape? That's because they make time for their own health. From gym sessions every week and a healthy diet to avoiding vices like smoking and drinking, they make their own health a priority. You will also notice they make self-care an important part of their lives, using things like LIVKRAFT's self-care services.
They surround themselves with the right people
You can tell a lot about a person by the company they keep. Happy and successful people surround themselves with other similar people. Whether it's a great team at work or a circle of friends, it's important to associate yourself with positive people that add value to your life.
They don't sweat the small stuff
You know when something gets spilled at a party, and the host starts screaming? That person isn't successful and happy. People that have their life sorted don't sweat the small stuff. They let the little things go and always see things from the other person's perspective.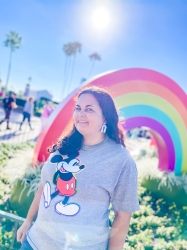 Latest posts by Krystal | Sunny Sweet Days
(see all)