How to Stay Safe as a Female Hiking Alone
Whether you're a seasoned solo hiker, or this is your first time taking on a hike alone, there are a lot of things that you should be taking into consideration before you set off. A solo hike can be an exciting, life-changing experience, and give you the skills to go out into other areas of the world that you would never have dreamed of before, but it's important to be cautious for your safety and the practicalities of traveling in this way. In this guide, we'll be discussing our top tips for staying safe as a female hiking alone. 
Tell Friends and Family Where You Will Be Going
One of the best things you can do to improve your safety as a female hiker is to regularly tell your friends and family where you will be going each day. Provide them with your planned itinerary which details the trails you will be taking, as well as where you plan to sleep, whether that's a rough idea of where you plan to pitch up your tent, or the hotels and B&Bs that you might be staying in. This will give them an idea of your general route in case there are any issues, and they need to notify officials of your whereabouts.
Take Practical Equipment
As part of any hike, it's vital to take practical equipment that can help with normal hiking functions, but this becomes even more important if you are a female hiking alone. Having the right kit to open packaging, undo knotted string or put a meal together can make or break your hiking trip, and you don't want to be having to turn back around if you realize that you haven't come prepared. A great tool to consider is a gravity knife, which can be used for a range of different hiking functions – you never know when it could come in handy.
Have a Plan for Dealing with Suspicious Behavior
While hiking alone can be a calming and empowering experience, there have been instances of female hikers running into difficulty with other people on a trail. While this is uncommon, it's important to have a plan for dealing with any suspicious behavior. Some good tips to bear in mind include:
Make sure that your phone is charged at all times, and take a power bank with you for the days where you spend more time hiking.
If you are approached by someone who asks you questions about your trip, never tell them that you are hiking alone. Remember to say that you are with a group who are following behind, as this will deter anyone who may have plans to hurt you.
When hiking in a foreign country, make sure to find out which emergency telephone number they use and how to contact a local official if you run into problems.
While there are some elements of hiking alone that require you to take more precautions than you normally would, the opportunity that this type of traveling provides is exceptional for both your physical and mental health, so you shouldn't let safety concerns override your dreams. As long as you remember to keep your family and friends updated on your current location, have the right equipment and keep to a clear plan for dealing with strange behavior, then you will find hiking as a solo female much easier to manage.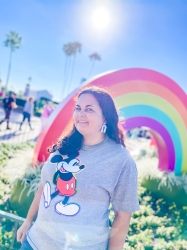 Latest posts by Krystal | Sunny Sweet Days
(see all)