4 Cutest Design Ideas For A Girly Room
There's no question that a well-designed room can make you feel more at home, comfortable, and inspired. But what if you don't have a lot of money to spend on design? Or what if you want your room to reflect your unique personality, but don't know where to start?
This article will give you four simple tips for designing a girly room whether you are looking to revamp your entire space or just add a few finishing touches. Keep reading for some helpful advice.
Tip One: Wallpaper is Your Friend
One easy way to add personality and style to a room is by using wallpaper. Not only is it relatively inexpensive, but there are so many different prints and colors to choose from that you are sure to find something you love. At thehadicks.com, you can find some ideas on how to use wallpaper to create a glamorous and girly space. And if you're not ready to commit to an entire wall, you can always use temporary wallpaper or decals.
Of course, you can choose from many designs, from florals to pastel colors, but the best way is to consider what your little girl loves and go from there. If your daughter loves princesses, try using a castle wallpaper mural as an accent wall. Or, if she's into ponies, look for a My Little Pony or horse-themed print.
Tip Two: Use Fabric to Add Color and Pattern
Another great way to add girly flair to a room is by using fabric. This could mean anything from adding some throw pillows to hanging a cute fabric banner above the bed. Fabric is an easy way to add color and pattern to a room, and it's also relatively inexpensive.
A great place to look for fabric is your local craft store or online retailers like Etsy. You can often find unique prints and colors that you won't find anywhere else. And if you're not sure how to use fabric in your design, there are plenty of tutorials online or you can ask a salesperson at the store for help.
Additionally, you can consider a bed skirt or duvet cover with a favorite Disney princess print to add some extra pizazz to the room. And don't forget about curtains! They can make a big difference in the overall look and feel of a space.
Tip Three: Personalize With Photos and Artwork
One of the best ways to make a space for your girl is by adding personal touches like photos and artwork. This is a great way to add color and personality to a room, and it doesn't have to cost a lot of money. You can find frames at yard sales or thrift stores, and you can print photos at home or use ones that you already have.
This can be a DIY project or you can have your little one help you choose which photos to frame. You can also look for artwork that reflects her interests or personality. For example, if she loves animals, you can frame some of her favorite animal drawings or paintings. Make sure to use her most precious sketches or artworks to make her feel extra special.
On the other hand, if your daughter is into fashion, consider hanging some of her favorite designer's sketches or pictures of iconic fashion models on the wall. You can also find some great prints online or at your local art store.
Tip Four: Accessorize With Flair
Another great way to add personality to a girly room is by using accessories. This could include anything from lamps and rugs to bedding and wall art. And the best part is that you can find these items at a variety of price points, so you can stay within your budget.
When it comes to accessories, it's all about choosing items that reflect your daughter's personality and interests. If she loves pink, look for a pink rug or bedding set. Or, if she's into horses, find some horseshoe-shaped wall hooks or a horse lamp. You can also find some great girly accessories at your local home goods store or online retailers like Target or Amazon.
You can also create a theme –  for example, a ballerina or princess-themed room. This can be done by hanging some tutus on the wall or adding a few ballerina figurines to the shelves. If you want to go all out, you can even find bedding sets and wallpaper with these themes.
Designing a girly room on a budget can be easy and fun. By using temporary wallpaper or decals, fabric, photos and artwork, and accessories, you can create a beautiful and personalized space for your little one. She can also help you choose items that reflect her interests and personality, making the room extra special.
With a little creativity and imagination, you can design a girly room that she will love without spending a lot of money.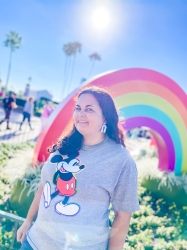 Latest posts by Krystal | Sunny Sweet Days
(see all)