7 Things Every Fun Event Needs To Have
No matter what type of event you're planning, one thing is certain: it should be fun! It doesn't matter if it's a birthday party, corporate get-together, or any other kind of gathering—fun events are the ones people remember and talk about for years to come. But how do you make sure your event is as enjoyable and entertaining as possible?
The answer lies in having all the right components that every great event needs. From activities to decorations and food, there are lots of things you can include in an event so that everyone has a good time. To help ensure your next gathering is nothing short of amazing, here are seven essential elements that need to be part of any fun event.
Theme
A great event theme can tie the whole gathering together and make it stand out. Pick something interesting and appropriate for your guests. For instance, if you're hosting a corporate team-building retreat, consider having a "survivor" or "adventure" theme with customized decorations, activities, and games.
If you're throwing a birthday party, choose something the guest of honor loves and can relate to. For example, if they're an avid reader, consider having a literary theme with books as centerpieces and creative activities related to literature.
Music
Music helps create the perfect atmosphere and can turn any mundane activity into a joyful one. To make your event truly memorable, engage an excellent DJ or compile a playlist of everyone's favorite songs. If you plan on using self-hire equipment for your music selection, a quality professional speaker mustn't be forgotten! This will lift everybody's spirits, creating an even more celebratory vibe that all attendees can enjoy to the fullest.
Additionally, if you're hosting a dance party, make sure you have plenty of room for guests to move and groove. Depending on the size of your event and the type of music you're playing, consider hiring a dance floor so everyone can get their groove on.
Games and Activities
Competition is an amazing way to bring people together and create lasting memories! Why not organize a range of activities for your guests to choose from? Whether it's traditional board games, trivia challenges, or outdoor sports—there should be something suitable for everyone. Get creative with custom activities that fit the tone of your event; this will foster a more intimate setting where all attendees can interact and have fun.
Additionally, consider adding a photo booth, where guests can take goofy pictures and instantly print them out as mementos. This will create an unforgettable experience that your guests will talk about for years to come!
Decorations
Nothing sets the mood quite like decorations do! Whether it's streamers, balloons, or custom-made banners—there are plenty of festive items you can use to create a memorable atmosphere.
If you're on a budget, there are lots of creative ways to spruce up your venue without breaking the bank. For example, why not try making decorative pieces out of paper or fabric? This is an affordable way to bring your event to life and will make it even more special for all your guests.
Food and Drink
No matter how amazing the decorations, activities, and music are—your event won't be complete without food and drinks! If you're not sure what type of food to serve, go with the crowd-pleasers like pizza, pasta, salads, and finger foods.
As for drinks, you can set up a make-your-own cocktail station or provide a variety of alcoholic and non-alcoholic beverages. If you want to keep it light and festive, why not serve some delicious mocktails?
Gift Bags
What better way to thank your guests for coming to the event than by giving them a small gift? Gift bags are a great way to make sure everyone leaves feeling appreciated and that they had an unforgettable experience. These can be filled with items like chocolates, keychains, cards, or even custom-made items. This will be a lovely token of appreciation that your guests can take home with them and is sure to make them feel valued.
Additionally, take the time to write thank you cards that express your gratitude towards your guests. This will not only show that you care but also make them feel special and appreciated—which is always an amazing feeling!
Surprises
A fun event should always have some surprises in store! Keep everyone guessing by planning something unexpected—like a flash mob or even just a special announcement revealing the theme of the night. Little touches like this will make your event truly unique and show your guests that you've pulled out all the stops to create a memorable one-of-a-kind experience.
You can also set up a lottery system where everyone can have a chance to win something special. This will add an extra layer of excitement and anticipation that your guests won't be able to resist!
Organizing a fun event is much more than just setting up the venue and inviting guests—it requires careful planning and consideration. With these seven tips, you can make sure your next gathering will be full of laughter, joy, and unforgettable memories!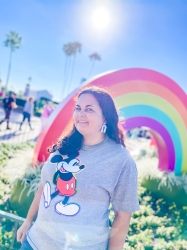 Latest posts by Krystal | Sunny Sweet Days
(see all)