6 Tips on how Golf could become a Favorite Family Activity
If you want to get your family time away from a screen, why not get them involved in golf? This may not be as bad as you think, especially if you're already a golfer. Think about it – you get to spend more time on a green, and with your family as well. They'll all have to learn how to play the game, but once they do, be prepared for the competition as everyone will want to beat you! If this sounds like something you'd be interested in doing, here are 6 tips on how golf could become a favorite family activity.
Keep it Fun
As with most things, to keep people motivated and interested in doing something, you have to make whatever you want them to do appealing, and golf is no different. Part of this means making the activity enjoyable and stress-free. So no shouting or barking orders, instead allow your kids to practice hitting a ball with a golf club. It doesn't matter about their technique, if they're a beginner, for now it's all about getting them to show interest in using a golf club and ball.
There may be other bits of equipment you could get your family to use to improve their swing, perhaps even a gap wedge, if you're on a green, as explained at https://redbirdiegolf.com/best-gap-wedge/. Introducing new golfing equipment now and then, and letting kids use them, will keep them interested in the game. This is more so if you notice their swing could benefit by using a specific piece of equipment.
Practice Together
As family members become used to handling a club and using it to hit a ball, you may want to consider getting lessons together. This is a great way to encourage one another, and spur each on, with a common goal of getting to play on a green. As you all keep going to regular lessons, golfing will become a hobby. If you're able to get to a green where you can practice a couple of times a week, you'll instil discipline into your children, whilst all getting to do something enjoyable.
Golfing Equipment
Make sure that everyone has what they need to play golf. As beginners, no one needs anything brand new, but they will need decent equipment. Perhaps, in the beginning, your children can share golfing equipment, as can adult family members, until they get to a certain level. Maybe your instructor could advise you on this.
Alternatively, you could gift golfing equipment, especially if it's really wanted, on special occasions like birthdays. You could even buy something as a surprise gift for everyone, like a golf simulator. These are great to practice on if you can't always get to a golf course, and is another way for you all to spend time together.
Use it as Bonding Time
In a time when most people socialize online, it's easy for families to all be in the same room, and not to talk to one another because everyone's online, whether it be via their phones, tablet or another device. But when you're all playing golf, you're all actually interacting with each other, which is priceless.
Golf is a perfect way for you all to focus on one another, without the outside world intruding on this time. If you're able to eat out after playing a few rounds of golf, you're able to extend this family time, and catch up on what everyone's been up to.
Watch Tournaments
To get your family really interested in golf, you need to get them to watch others playing, and televised tournaments are a good way to do this. It's also a good opportunity to get learners to see how professionals play golf. As your family begins to understand what's involved in playing this great sport, they'll understand what they're watching, and will naturally be interested in it.
Support Golfers
As your family watches tournaments, they'll begin to recognize who's good at the game, and who they want to win. When this happens, they'll begin to support golfers and so will have developed a love for the game, just as you have. They'll have a deeper appreciation of how these golfers play, perhaps even keeping an eye on other tournaments they're in as well. By supporting other golfers, this will make watching golf as a family more enjoyable, especially if there's more than one favourite in your household.
Golfing is a great activity that requires all of your attention. As a result, if you were to get your family involved, it would mean that there would be nothing to distract them whilst they're playing on a green. Not only will everyone get time away from screens and their usual routine, you'll all be spending precious family time together. This will create memories that will last a life-time, and you never know, may even continue when your kids have kids.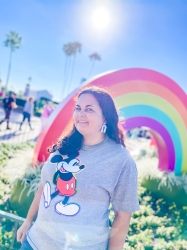 Latest posts by Krystal | Sunny Sweet Days
(see all)