Expert Tips for Decorating Your Wall
Whether you're preparing to decorate a brand-new house with a blank canvas just waiting for your touch or hoping to update the look of an older home, you may enjoy some tips from professionals and homeowners. This advice comes from people who have created beautiful spaces throughout their own homes and for friends and clients.
Start With the Wall Itself
Before you put anything on the wall, it's a good idea to choose a paint color or wallpaper. Everything else will be affected by the color or pattern on the wall. If you plan to have a feature wall, this first step is especially important. A statement wall could be a different color or have a mural; it may have wallpaper while the rest of the room doesn't, or it could be a good spot for shelves or a wall niche. If you want to have lights on the wall, put them in before you move on to the artwork.
Identify the Focal Point
There are some fixtures that demand to be the focus of any wall or room. For example, if there's a fireplace in the room, that is the focal point. Any wall art should be positioned in relation to the fireplace. Your single piece of art or an art grouping should be about the same size as the opening of the fireplace.
Other furnishings can also direct how you position your art. If you're putting pictures above a table or sofa, for example, hang your wall décor about six to eight inches above the top of the furniture. If you have large furnishings, use larger pieces of art, and if you have smaller furnishings, keep your décor smaller.
Choose a Guiding Theme
This doesn't need to be really specific; it's more important that your theme serves as a general guide. For example, you may decide to incorporate farmhouse wall decor throughout your home. Another idea is to focus on the major industry of your community, such as the railroad or ocean fishing. Maybe you want to fill the walls with memories or draw attention to something you're passionate about. For example, if you really love birds, you could place artwork, figurines, or books that incorporate birds, without going overboard. If you get too specific, your theme won't have the same impact.
Create Your Grouping Before Hanging It
Many talented decorators use a large piece of paper on the floor or a table. Place your décor items on the paper and move them around until you have everything where you want it to be. Use a pencil to trace the positions of your decorative pieces and mark where nails and other hanging hardware belong. Next, pin the paper to the wall, put up the nails, etc. and then remove the paper from the wall. This makes it much easier to hang your art and other decorative items.
Learn How To Mix and Match Appropriately
You may have seen many beautiful walls that seem to have a variety of pieces stuck together randomly. The truth is that these arrangements have been created after a lot of shuffling. Prepare by following the advice about making your arrangement on the floor or table. Next, with your theme in mind, gather your art, letters, frames, baskets, old windows, household items, natural elements, and whatever else you have in mind. Place your items and move them around until you're satisfied, mark the spots for hanging, and then get to work.
If you're tired of looking at your walls and you're ready for a change, use these tried-and-true tips from experienced home decorators. Spend a weekend gathering your wall art and décor, then transform your wall from unsatisfactory to amazing.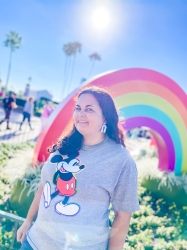 Latest posts by Krystal | Sunny Sweet Days
(see all)