Cute and Colorful Tips for Your Kitchen
Looking to spiffy up your kitchen? Whether you're looking to do a total remodel, or just utilize a few trendy accents to get out of a rut, our tips will have your kitchen looking cute, colorful and functional in no time at all!
Don't Be Shy: Color is everywhere these days! The brighter the better! It isn't just bright gowns on the red carpet or wild new paint colors on cars; nope, people are even getting in on the color trend in their homes, with bright and colorful couches, dynamic carpet looks, and more! Why not do the same for your kitchen? If the ever-popular Kitchenaid has taught us anything, it's that we love a colorful accent in our kitchen, and everybody has a different favorite! Why not go all out and paint your kitchen walls that beautiful bright purple you've always dreamed of, or buy that vintage canary-yellow table you've had your eye on?
The best part is that colorful pieces are everywhere you look now. Everything from vinyl tiles in every possible shade, to vibrant paint colors at your local hardware store, and you can even choose from a wide variety of quartz countertop colors that give your kitchen that classy pop of color. Best of all, they come with a lifetime guarantee and are super durable and chip-resistant, to ensure they'll stay looking great for years to come.
Unexpected Pieces: Who says you can't have a cushioned reading nook in the corner of your kitchen? Or a bookshelf, piled high with your favorite cookbooks? Why not throw a rug in the middle of the floor? These days, people are making every space their own, with unexpected, unique and fun additions to space where their family spends the bulk of their time. Get out to the thrift shops, or find a great piece online that you just can't live without, and make the kitchen its new home!
Old is New Again: Everyone loves those Smart Fridges, but you know what else people love? Vintage. Retro. Styles of decades-past are having a moment, and your kitchen can reap the benefits. Whether you're in love with an old-timey stove from the antique shop, a vintage-style hutch or a simple flourish like the potholders your Grandma knitted back in the '60s, make your kitchen your own with some older pieces that will fill every space with loving nostalgia. Sure, state of the art, brand new stuff is awesome, but if you fill your kitchen with antiques, vintage pieces, and heirlooms, you can guarantee that nobody else's kitchen will look like yours.
Eco-Friendly: No matter what you do with the design, it's going to look great. Just make sure that you make space for the important parts of your kitchen – the recycling bins, the water filter, and the other important environmentally friendly and energy-saving tweaks that help the environment and keep you and your family safe. Those are always in style!
These are just a few tips on how to revamp your kitchen into something colorful, cute and unique! There are so many other great ideas out there; what's yours? You can also use these 10 simple organizational ideas for small spaces to help you get started.
Home Decor Tips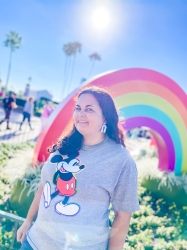 Latest posts by Krystal | Sunny Sweet Days
(see all)