Dollar Tree Garden Supplies
Now that Dollar Tree is starting to get their spring gardening supplies out, you might be in a hurry to snag them up. Before you do, you should know that some dollar store garden supply deals are better than others. Before you start filling your cart, take a look below at seven Dollar Tree gardening supplies you should buy, and read about a few that you want to pass on. Get ready to use your green thumb this spring!
1. Seeds. You can't beat seeds at four for $1 and 2 for $1. Prices and varieties will vary from store to store, but this seems to be the going rate. If you prefer to grow from seed, Dollar Tree carries quality brands that are sure to put on a show.

2. Gardening Gloves. Dollar Tree has a nice selection of gardening gloves in a variety of prints and colors. They wear well and wash well, and will do a nice job protecting your hands. Grab a few in case you lose a pair!
3. Seed starters. You can get a package of seed starters at your local Dollar Tree for just a buck. If starting seeds indoors, these are nice to have on hand and the ones Dollar Tree offers will get the job done. You can also use KCups to make your own!

4. Wildflower mixes. If you want to make planting easy this year, grab a large box of wildflower mix for just $1. It is a generous sized box, and all you need to do is sprinkle it around. This box of seeds is also ideal if you are crafting seed bombs.
5. Flower pots. While Dollar Tree doesn't carry large flower pots, they do carry some decent small and medium-sized pots. These are great for herbs! Choose from a wide selection of colors and patterns to fit your décor.
6. Fertilizer spikes. Fertilizer spikes can help your plants bloom hardy and strong. The ones sold at Dollar Tree are a good value and will give your plants the nutrients they need.
7. Bulbs. Dollar Tree carries a nice selection of spring bulbs, and each package seems to have 4-6 bulbs for you to enjoy. When you break it down to the price per bulb, it's not a bad deal.
What Not To Buy:
When buying gardening supplies from Dollar Tree, you want to avoid metal gardening tools and potting soil. The gardening tools seem to be lower end and break and bend easily, while the potting soil is cheaper per pound at the local gardening center. HOWEVER, in 2018, I saw this 8 pound bag for $1. Since we didn't need that much to start our small garden, we consider this a deal.
If you're ready to experiment in the garden this year, dollar garden supplies are a good way to get started. I'm not exactly the best gardener around, but I can admit that these prices encourage me to start my own garden for spring. It's an easy way to start a new hobby, encourage your children to join you, and enjoy beautiful flowers and fresh herbs.

Interested in more gardening articles?
Do you have your own garden? Are you ready for spring?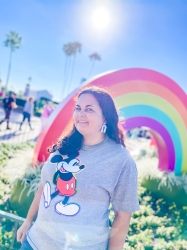 Latest posts by Krystal | Sunny Sweet Days
(see all)