Designing a home for elderly relatives
Witnessing your parents or grandparents as they age can be both wonderful and worrying at the same time. We get to see them interact with grandkids and share a unique kind of love with us, but we also start to see their independence and physical health decline.
One option that many people consider when pondering how to care for their elderly loved ones is aging in place. This refers to the individual or couple maintaining their independence by living at home as they grow older instead of in a senior living facility of some kind. Many families are moving toward this concept because it makes life more comfortable for their older relatives.
The best way to set someone up well for aging in place is to design the home in a certain way that is conducive to their lifestyle. This can happen both in their own home or in yours if you have taken them in. Here are some ways to guarantee that the space is a good environment for your loved one.
Create a home gym area
Since the person in question is electing to maintain their independence, their environment must be built to help them live a healthy lifestyle. A perfect way to do that is to have an area of the house dedicated to exercising. It can be a small room or even a corner of a bigger room. Once a space has been chosen, some quality exercise equipment that you could put there includes a yoga mat, small weights, a resistance band, a stationary bike, or any other type of workout machine. There are so many options for what you can add to a home gym, but make sure to tailor it to the individual that it is meant for.
Consider connectivity throughout the home
Ease of use is the name of the game when it comes to aging in place. How can you make the various aspects of the home connected via technology so that things can be done easily and quickly from a smartphone or remote? You can hook up digital thermostats for room temperature, security locks for windows and doors, and lighting controls all to an accessible device, making them easier to operate. As mobility decreases with age, your elderly loved ones will still be able to do these tasks conveniently with a more connected home. A lot of research into the Internet of Things is being conducted around the idea of homes becoming more connected and making life easier for older adults. Take advantage of innovations and make the home a more comfortable space for your loved one.
Install a chair lift/personal elevator
If the home has multiple stories that are used by the individual in question, then having a chair lift or personal elevator could be a good investment, even if they are not yet in need of it. Falls are a leading cause of injuries in older adults, and stairs are often the main culprit in these kinds of accidents. Changing how they can move between levels can save them the damage that may result from a bad fall on the stairs. Plus it allows them more access to the full home for a longer time, as opposed to being stuck on one story once they have reached a certain point in their life.
Make adjustments to the bathroom
Small changes can make a huge difference in the bathroom. Adding a handlebar near the toilet can be helpful, or replacing the toilet so that it sits higher and is easier to get up from. You can also add stabilizing features in the shower like a bar or a bench for those who may struggle to stand for long periods as they bathe. If you have the resources, changing from a bathtub to a walk-in shower will be extremely helpful, or some bathtubs have doorways that you can open when entering or exiting so you don't have to step over the sides. Many bathrooms in nursing homes have these features, and you can replicate these safety measures at home, allowing you to avoid moving your loved one into a potentially concerning facility.
Customize the space for care and support
The two things you want to consider when designing a home for aging in place are the health care needs of your loved one and the emotional support. You want the space to be safe and conducive to good physical health, but you also want it to be somewhere where they feel comfortable and a space for them to thrive. It takes more work and personal investment to set up the home well for this stage of life, so do your due diligence and make changes that will work best for your loved ones and their well-being.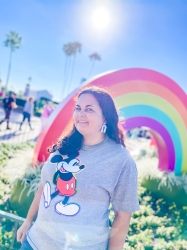 Latest posts by Krystal | Sunny Sweet Days
(see all)