Planning a Date Night at Home? Here Are Some Recipes to Try
Date nights could be fun for you and your lover. It's a time for you to relax and unwind, have an interesting conversation and get to know each other better, or discuss highlights of your day.
You can pick each other's brains on several topics and issues, but that doesn't mean it must be devoid of food and free-flowing alcohol or wine.
You do not have to go out to have a perfect date night with your partner; you can make it an indoor affair, get groceries, dessert, and some bottles of wine and have a magical night.
Are you confused about what to make for an indoor dinner or the perfect wine pairing for the food? Here is a highlight of some recipes to try out for date night meals.
Spring Veggie Pasta
You can never go wrong with pasta, especially when it is fettuccine pasta. To make this work, you need fettuccine pasta, asparagus, olive oil, cloves garlic, leek, fresh thyme leaves, red pepper flakes, lemon juice and zest, parmesan, and kosher salt. Slice your asparagus diagonally, cut the leek into half-moons, shave the parmesan and press the clove garlic.
Cook the pasta as directed on the package and add the asparagus within the last two minutes. While boiling, put a skillet on the burner set at medium-low heat, add two teaspoons of oil, turn in the garlic, leek, red pepper flakes, thyme, and ¼ teaspoon of salt and let it simmer for 10-12 minutes.
Dry the pasta but keep one cup of the cooking water, then turn the dried pasta and asparagus into the simmering skillet mixture, turn it while adding lemon juice, two teaspoons of oil, and the reserved water. Add the parmesan and lemon zest. The spring veggie pasta can be ready in under 30 minutes and served with a bottle of red wine. All these because you can't go wrong with pasta and red wine for a home dinner date.
Ravioli Topped With Creamy Mushroom and Asparagus
You can quickly get the recipe for this at a nearby store or farmer's market. All you need is cheese ravioli, olive oil, mixed mushrooms, asparagus, shallot, chives, crème fraîche, dry white wine, and kosher salt and pepper. As an aside, this recipe requires you to add white wine to the cooking recipe, so make sure you have an array of corkscrews at home in case your wine choice has a cork, which can be very tricky to open.
Cook the ravioli as instructed on the package. While the ravioli is cooking, put a large skillet on another burner, set at medium-high, add a teaspoon of oil to heat. Turn in half of the mixed mushrooms to cook until it turns golden brown and crisp.
Do the same for the remaining mushrooms. This should take between 5-7 minutes. After removing the mushrooms from the skillet, add one teaspoon of oil to it, turn in the asparagus, and let it cook for 2-3 minutes or till it is soft, then pour into the bowl containing the mushrooms.
Leave the burner on medium-high, put a pan on it, add shallots to it, season it with half a teaspoon of salt and pepper, and let it cook for 2-3 minutes while you stir it occasionally, then add a generous splash of wine and let the mix simmer for two more minutes. Stir the mixture with crème fraîche and add some vegetables if you have it on hand, then spoon it over the ravioli and sprinkle it with chives. Voila! Your dinner is ready in under 30 minutes; you can enjoy it with a chilled bottle of red wine or sweet white wine.
Lemon-Thyme Chicken
The recipe for this meal includes boneless and skinless chicken breasts, artichoke hearts, lemon, parmesan, green beans, sprigs of fresh thyme, olive oil, and kosher salt and pepper. Get a rimmed baking sheet, add a teaspoon of oil, green beans, sprigs of thyme, artichokes with the sides cut down and sprinkle it all with one-quarter of salt, pepper, and parmesan. Put it in the bottom rack of the oven you have set at 425°F, leave it for 10 minutes or till it turns golden brown and tender.
Season your chicken with salt and pepper, then heat a teaspoon of oil on a skillet. Put on a burner set on medium, add your seasoned chicken, let it cook till it turns golden brown, flip it till all sides are equally brown, and add the lemon already cut side down and remaining time sprigs. Transfer the skillet to the oven and roast for 10 minutes or until the chicken is perfectly cooked. Add the already baked artichoke sides to it, and your meal is ready to be served. This meal goes perfectly well with red wine or some sweet tea.
Tomato Feta Shrimp
If you plan to wiggle on a weekday home-cooked dinner date, you should consider making the tomato feta shrimp recipe. All you need is olive oil, cloves garlic, strips of lemon zest, jar salsa, can tomato sauce, large peeled and deveined shrimp, baby spinach, crumbled feta cheese, and some flatbread. All these ingredients are easily accessible, so it should not be a problem.
As usual, set your burner on medium, put a large skillet on it and add a teaspoon of olive oil to heat. Pour in your chopped garlic and lemon zest, stir it for a minute or till it becomes brown. Add a generous amount of salsa and pour in your tomato sauce. Please leave it to simmer for a few minutes before you add in the shrimp. Allow it to cook for 3 minutes while covered. Open it up after the allotted time, add the spinach, and then stir and let it cook until the leaves wilt and shrimps are opaque. Sprinkle it with the flatbed cheese, and your sauce is ready to be served in under 15 minutes with flatbread and a chilled bottle of red.
There you have it, your home-cooked dinner recipes for a dinner date with your lover, and relatively inexpensive.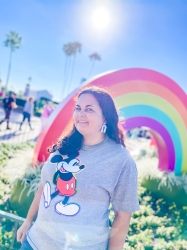 Latest posts by Krystal | Sunny Sweet Days
(see all)