Crayon Crafting: Fun and Colorful Projects
Crayons are colorful tools for people of all ages. It is easy to think back and remember the joy of making art as a young child. Something as simple as coloring was a wonderful activity that passed the time in a creative and fun way. Throughout the years, crafting continues to evolve, leading to the creation of many cool new projects to try. Here's a list of fun, crayon-centric crafts that will add a little color to the day.
1. Melted Crayon Canvas Art
This simple and enjoyable craft needs a canvas, glue, a blow dryer, and crayons. Pick the crayon colors you think are the best and glue them side by side along one edge of the canvas. Once they're all glued down, stand the canvas up with the crayon edge at the top. It would also be a good idea to put some paper towels or plastic down under the canvas. Turn on the blow dryer and move it back and forth to melt the candle wax. And watch as it drips down the canvas to create beautiful art. Once the wax dries, hang the canvas up and enjoy your creation!
If you want to find more inspiration for fun DIY projects, visit Just crafting around.
2. Create Custom Crayons
For this activity, it is best to use a muffin tray. If you have crayons that are wrapped in paper, start by removing coloring crayons, and breaking them into small pieces. Spray the tray with cooking spray and then place the crayon pieces randomly into each spot. Heat the oven to 275 degrees and cook the tray for 7-8 minutes. The crayon pieces should melt together and form fun, custom crayons.
3. Create Crayon Candles
To create candles from crayons, you will need wax, candle wicks, containers, and crayons. Pick a few different crayon colors and chop them into tiny pieces. Once the crayons are chopped, melt the wax. It is important to keep the wax warm throughout the duration of the project. Working with one color at a time, pour some wax into the container with the crayon and allow it to melt. As the crayon melts, be sure to continue stirring the mixture. Add some essential oils in with the mixture for scented candles. Each layer should have one drop of your scent of choice. Place a wick inside a jar and pour the crayon wax mixture into the jar as well. Place it in the refrigerator until it hardens and then repeat the process for each color layer. As soon as your final layer is done setting, your candle is ready to burn.
4. Play with Watercolor Gel Crayons
Take coloring up a notch with a watercolor version. Make a design with watercolor gel crayons and then add water to watch it change. Coloring with gel crayons creates a bolder and smoother picture than regular crayons. With the stroke of a paintbrush dipped in water, a crayon picture will take on a lovely watercolor effect.
Crayons are fun for all ages. Finding and attempting fun new projects can really make time fly and be a great bonding experience between parent and child.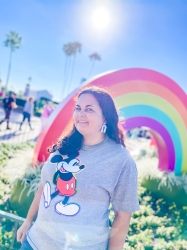 Latest posts by Krystal | Sunny Sweet Days
(see all)