Yummy Desserts Perfect for Summer
How do you celebrate the summer months? Have you made a new recipe lately? Maybe now is the time to try your hand at creating your favorite ice cream or an entirely new one. Here are some delicious desserts, plus their vegan alternatives, to keep cool and treat yourself this summer.
Cookies & Cream Ice Cream
You will need 14 oz sweetened condensed milk, 2 cups of cold heavy cream, 20 Oreo cookies (or however many you want), 1 tsp vanilla extract or vanilla bean paste, and ⅛ tsp salt to make this yummy homemade treat. You may choose to chill the whisk attachments and bowl of a mixer in the freezer for a few minutes before starting. While they are cooling, pour the condensed milk into a different bowl and whisk the vanilla and salt until combined. Remove the whisk and bowl from the freezer and beat the heavy cream with a mixer until stiff peaks start to form. Then pour in ⅓ of the whipped cream into the milk, vanilla and salt bowl, folding until even. Put in the rest of the whipped cream, and continue to carefully fold. It is important to fold and not stir so that the whipped cream stays light and soft. Fold in the cookie crumbles. Transfer into a container and evenly spread the mixture with a spatula. Next you will cover the ice cream entirely (directly touching the ice cream) with plastic wrap. Put a lid on top of the container and freeze for 6 hours at least, or overnight.
Vegan Cookies & Cream
To make this ice cream recipe vegan, all you need are 4 ingredients. This is super easy, healthy, and a great alternative to traditional dairy ice cream. This version calls for 4 ripe bananas (which should be prepared beforehand, cutting into slices and freezing overnight), 8 Oreos, 1 tbsp peanuts, and 1 tbsp peanut butter. Blend the peanut butter, just 3 of the Oreos to start with, and the frozen bananas together. You may have to add in a little plant-based milk to reach your desired smoothness, and then add in 3 or more cookies, pulsing for a few seconds. Scoop the ice cream into eco friendly cups and crumble the rest of the cookies, extra banana slices, and the peanuts on top to serve.
Popsicles
These popsicles are too easy and tempting not to try. Start by blending 2 cups of fresh strawberries, sliced bananas, blueberries, raspberries, 2 cups vanilla yogurt, and ¼ cup white sugar until smooth or chunky, depending on your preference. Distribute the mixture into cups until they are ¾ of the way filled up and cover the tops with aluminum foil. Push popsicle sticks through the foil before placing the cups into the freezer for 5 hours at least. Once they are ready to eat, just peel the foil off and enjoy. To make these popsicles vegan, simply substitute the yogurt for a dairy-free alternative. You also have the option of using coconut sugar instead of white sugar.
Lemon Ice
If you have an ice cream machine, this recipe is extremely simple. All you will need is 1 juiced lemon, 1 zested and juiced lemon, 1 chilled can (14 oz) of nonfat sweetened condensed milk, and 2 cups of cold milk. Combine the ingredients and use the freezer compartment of your ice cream maker, freezing as directed. Simply replace the dairy ingredients with coconut cream and a plant-based milk to make a yummy vegan alternative.
Making a homemade dessert for the summer should be fun and delicious. These recipes are decadent, may even be a little healthy, and are guaranteed to cool you off.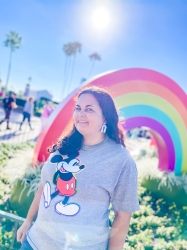 Latest posts by Krystal | Sunny Sweet Days
(see all)