Make the Crafty People in Your Life Happy with These Gift Ideas
Giving gifts is one of the sweetest ways to show the people we love how much we care about them. There's also a special kind of fun when you go shopping for a gift for someone you love. You usually look for something that has special meaning to both of you, or something you know they will enjoy.
Whatever you get the people you love, they will absolutely appreciate the gesture, simply because it says that you're thinking about them. Even if what you got them doesn't align with their interests, it's still a token of love and appreciation. This means that getting your loved ones something you know they'll enjoy will make them even happier, which is the main point of buying them a present.
If you have a dear friend, family member, or a special person in your life who's into crafts, this article is for you. Here are some great gift ideas for the crafty people you know that will definitely make them happy.
Coloring Kit Sets
Many people who love making art projects would totally love it if you get them a color set. There are different types of coloring kits, depending on the types of items they enjoy making. Oil colors, for example, would make a perfect gift for someone with a passion and talent for painting on canvas or different types of material. Another great idea is plastic paint colors or watercolors.
The bigger the set, the wider variety of colors and shades they can choose from and even combine, so try to get them a kit that has a good variety. If you're not sure what type of colors work best, you can always ask the people at the store for suggestions.
Coupons and Gift Cards
There are times when a store can have so many options that we're not sure which item the person we're getting the gift for would like best, or we may be torn between two items, unable not to decide which is better. Since they're the experts on what they like, why not let them choose? The point is to make them happy, so let them pick what makes them happiest.
They may have mentioned the names of a couple of stores they like buying their crafting tools from, so a great idea is to get them a gift card or a coupon they can use at these said stores. People have written reviews on Michaels coupons page explaining that crafty people find it quite thrilling to be able to use coupons or gift cards and pick what they know they need. Some people prefer to choose what they like best, so this is the best approach to getting them a gift since they pick the items out themselves.
Sewing Machines
Some people have a knack for making clothes, so a nice sewing machine would be perfect for them. There are so many types of sewing machines of different sizes and varying features, so even if they have one, you can always get something more advanced than what they have.
You may also get them a figurine of a sewing machine to put on their desk or their shelf. It would be a nice way for them to show off their love for sewing, and they will find this a sweet and thoughtful present.
Accessories Tool Kit
For those who have the talent for making their own accessories, this may just be what they're looking for. Buying them a tool kit that includes a wide variety of styles, shapes, and tools to create different styles of jewelry will make them extremely happy.
Their creativity will let them make wonders with the simple tools in the box you get them. You may find it intriguing to watch them work their magic and create their artistic wonders.
3D Puzzles
Some crafters love connecting pieces and making shapes out of them, so another wonderful idea of something to get them is a 3D puzzle set. There are endless options of shapes and piece numbers you'll find for 3D puzzle sets, so you may want to challenge them by getting a complicated shape that includes many pieces that need to be put together to configure the final shape.
If you're into crafts yourself, then you must understand the thrill of having many tools that help you create what you're talented and skilled at. One of the best feelings is when a person you love gives you something that can help you hone your talent and improve your skills. It shows how much thought they put into the present, and how much they really care about getting you a gift that truly makes you happy.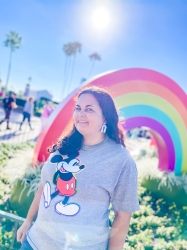 Latest posts by Krystal | Sunny Sweet Days
(see all)