Best Dog Treats to Leave for the Pet Sitter – And Other Vacation Checklist Essentials
If you're heading off on vacation and leaving your pooch with a pet sitter, you'll want to make sure that you leave the best dog treats with your sitter to make your dog's time away from you as easy as possible.
So, let's look at the different types of treats you should leave for your pet sitter to give your doggy, followed by other vacation essentials you'll want to ensure your dog has access to while you're away.
The Best Dog Treats
You'll need to ensure you leave enough dog food and treats at home for your dog to cover the period of time that you are away. When it comes to leaving treats with the pet sitter, you should stock up on treats that you know your dog loves.
You might also like to leave gourmet treats so that your dog has special food to ease the burden of being separated from you. CBD dog treats are an option that you should definitely consider leaving, as CBD can help your dog to relax while you're away.
There are different kinds of CBD pet treats available, such as bites, soft chews, and CBD oil. Other types of dog treats that you could leave with the pet sitter include the following.
Crunchy Treats
If your dog loves crunchy treats, make sure you leave dog treats with your sitter like biscuits, bars, cookies, and kibbles.
Soft and Chewy Treats
Some dogs prefer soft and chewy treats. Such dog treats are ideal to carry around, so they're easy for pet sitters to hand out at home and while on walks.
Furthermore, many soft and chewy dog treats are pungent, making them desirable for all kinds of dog breeds.
Long-Lasting Chews
When a dog's owners are away, it can be comforting for the dog to have long-lasting chews to chew on. Bone-like chews like bully sticks are safe and easy to digest. They can also be high in protein and preservative-free.
Also, due to the toughness of long-lasting chews, they can scrape plaque as the dog chews, which will help to keep your pooch's teeth clean.
Dehydrated or Freeze-dried Treats
Dehydrated or freeze-dried dog treats are also a good choice. You can use meaty treats like jerky or vegetable-based treats that contain ingredients like pumpkin and sweet potato.
Other Essentials to Leave with Your Pet Sitter While You're on Vacation
Besides dog treats, you should carefully consider what other items you should leave for your dog and make them accessible to your pet sitter while you're on vacation.
Here are just a few items that you should leave.
Your Dog's Favorite Toys
Your dog will be happier and calmer when he or she is away from you and being looked after by your pet sitter if his or her favorite toys are accessible.
Your Dog's Leash
If your pet sitter isn't able to find your dog's usual leash and instead uses an old one or has to buy a new one, your dog could feel uncomfortable when it's time for walkies.
So, make sure your pet sitter knows which leash to use and where it's located.
Your Dog's Feeding Bowls
The same goes for things like feeding and water bowls. Your pet sitter should know which items to use. If your dog ends up eating or drinking out of unfamiliar containers because your sitter can't find the bowls your dog usually uses, your dog could be more uncomfortable while you are on vacation.
A List of Important Numbers
Hopefully, your dog will not experience any issues while you're away. But if any health problems arise, it's important that your pet sitter knows which veterinarian to see. So, leave the number with your pet sitter.
You should also leave a list that contains other important phone numbers, such as the local pet store number, in case the sitter needs to buy more essentials like treats, and the contact details of friends or family members who are used to spending time with your dog, in case the sitter has any problems.
You should also provide your pet sitter with your own contact details in case of an emergency.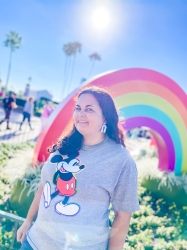 Latest posts by Krystal | Sunny Sweet Days
(see all)