Benefits of Hiring an Interior Designer
The idea of using an interior designer for your home may seem overwhelming, but there are far more benefits than you can imagine. An interior designer that is experienced will be able to assist you in uncovering design solutions that you may have never imagined. Interior designers can save you money, time, and energy.
Trained Eye
An interior designer can understand your ideas and put them into a plan to figure out what will work the best in your home. An interior designer is a skilled professional, so they can let you know where you should spend your money and where you shouldn't spend your money. They have a trained eye for being able to spot what is not working and what is working in your space. They can imagine the entire space before it is completed and also work out any little details in the process. Your designer will also make sure that what they put together meshes well with your lifestyle, pets, kids, etc. Additionally, your designer can make suggestions regarding the right furnishings to use and much more.
Save Time & Money
The best way to avoid making mistakes that can cost you, in the long run, is by purchasing the right furniture and accessories. You can easily make the mistake of purchasing the wrong size or color of something. Your designer can choose the right furnishings for your home and even confirm that these items are made of high-quality materials. They can also make sure that your orders are placed correctly. Interior designers are excellent in sourcing materials which can save you time to select the items on your own. They can also work within the budget of your choice and let you know how to spend your money, only where they believe is necessary.
Innovative Thinking
Whether you are hiring an interior designer Portland, or someplace else, skilled designers have everything you need to make sure they fulfill your needs. This all comes from having many years of training and experience. Since they don't see things the same as you do, they have innovation that allows them to come up with unique solutions for homes that are more difficult to design. Maybe you are looking for a flawless design that is a reflection of the occupants in your home. This is why it is wise to hire a designer that thinks outside the box.
Manage Projects
An interior designer will operate as your advocate and manager. They know when they need to reach out to other professionals to get things done. Interior designers know how to work through issues with shipping, damages, and also when items show up late. They are typically prepared in advance with a backup plan before you are aware of an issue. They are able to speak directly with tradespeople and contractors to make sure everything is coming along as it should. All you need to do is sit back and enjoy the process.
Eccentric Space
Since interior designers have access to vendors that are trade-only and custom craftsmen, they can create a home that will not have similarities to anyone else. Designers can create results that are better than you expected because they know what it takes to bring out special touches and make a room look immaculate. While in-store designers can also help you, they are limited in their abilities and many people prefer for their homes to be a representation of themselves.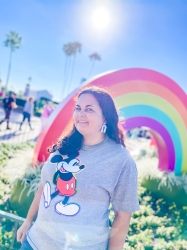 Latest posts by Krystal | Sunny Sweet Days
(see all)