Bachelorette Party Decor Ideas to Wow Your Guests
Though being chosen as a bridesmaid is an honor, it can be a pretty daunting experience of keeping the bride sane through the ups and downs of wedding planning. It also means that you're in charge of organizing an unforgettable bachelorette party to bid adieu to the bride's maiden days and celebrate the upcoming change in her marital status.
Preparing a party that strikes the bride's fancy and balances between casual and elegant is no mean feat, but with the right decorations, you'll be able to set the mood of the whole party. From a gorgeous photo booth backdrop and nostalgic photo collage to funky balloons and a chalkboard to leave messages – you'll bring the evening to the next level with those ideas. But before that, and before you head to the party store, you'll have to consider your venue, theme, and color scheme in your decoration planning.
Wanting to create the bachelorette party from your sister's or close friend's dreams, you'll have to pull out all the stops. If you need inspiration, below you'll find tips and ideas to prepare a glamorous party decor that will wow everybody.
Decoration Planning
Planning is the key to success when it comes to bachelorette party decoration. You need to make sure that you've arranged everything down to the last detail before starting with the actual decorating. Here are some things that you have to consider:
Budget
The first and most important thing in the planning is to set a budget. How much do you want to spend for the party and what's your maximum? Are you able to spend a few hundred, or can you afford to go all out? Are there any necessary items you need to allocate a budget for, such as balloons, straws, or wearables?
Decorations will surely add up to your budget, but you can also save a lot with some DIY projects and websites such as https://trendingcustom.com/ or alike that offer personalized decorations and gifts at fair prices.
Venue
Another important thing that you'll have to consider is where the party will be held. Will it be a house party, restaurant, or a fancy spa resort? Once you decide on that, you'll have to pick the decor based on it. If it's a house party, you'll have more options for decorations. But if it's a classy restaurant, you might have to watch out for the decorations that are permitted inside and those that will pass the venue's policies.
Colors and Theme
Next, in your party planning, you have to choose the color scheme and theme of the party. This will significantly affect the rest of your plans as you'll have to think about the food, décor items, and even entertainment to fit the chosen theme.
For example, if you choose a spring- or summer-inspired bachelorette party theme, you can choose pastel colors like pink and blue for your décor and food as well. You can also choose flowers for your central theme, like roses, lilies, and daisies. For an elegant affair, it's best to use white or light peach colors for your party decor. You can also play with patterns and shapes for your table settings and centerpieces.
Party Decorations
After deciding on the venue and theme, it is time to see what other party decorations you can use. You can rent some items or buy them as long as they complement your theme and color scheme. Here are some party decorations ideas:
Photo Booth Backdrop
A photo booth will be one of the most popular things at any bachelorette party. Instead of using your usual backdrop, why not create a photo booth wall with a different look? You can create your own backdrop by using fabrics, curtains, and even posters.
Make sure that you don't just hang any old backdrop – it should match your theme and color scheme. Go for simple props like flowers or balloons – these will help the guests pose better.
Photo Booth Props
Photo booth props are also great if you want your guests to have fun posing and acting silly in front of the camera. To make it even more enjoyable, hang a huge mirror behind the photo booth area so that your guests can take selfies with their friends. Simply print photos from the photo booth for the guests to take home and remember the fun evening they had at the bachelorette party with the bride and you.
Balloons
Balloons are an incredibly versatile option if you want the party to be colorful and playful. You can create balloon walls or pop them on tables as centerpieces and fill them with confetti or tissue paper for added effect. You can also write messages on them to add more character to your decorating ideas. They are easy to deflate once the party is over, so you won't have to worry about too much cleaning up afterward.
Photo Collage Mural
A photo mural will definitely make a statement during the bachelorette party. Ask the guests to send you the pictures of them with the bride and arrange them into a collage. Hang it up in a prominent spot during the party – behind the bride's seat or by a dessert station so everybody can see it while they socialize with each other.
It's a great way to remind the bride of the loyal friends she has by her side. They will remain with her through thick and thin, be it crazy adventures from the past or her new life as a married woman.
Chalkboard Messages
A chalkboard is a beautiful addition to any party, whether for a wedding itself or a bachelorette party. Write uplifting and inspiring quotes that pertain to brides and weddings on them so that everybody will be in high spirits during the party.
It's also a great way to leave messages for the bride and write down things that happened during the party. It will also remind the bride how much she is loved and how much her guests were entertained on her last night of singlehood.
Fairy Lights
Fairy lights give out a magical effect and can be hung anywhere for the whole venue to enjoy. They are a great way to light up the venue and add some festivity and romanticism to it. You can use them in your photo booth backdrop, hang them on the ceilings, or just spread them across the tables. Different colored fairy lights will make a huge impact on the party theme and color scheme.
Conclusion
A bachelorette party should be one of the most memorable nights in the bride's life. It's a great time to celebrate her last night of being single and her upcoming new life with her husband-to-be. With the proper planning and decorations, you can make the party even more memorable for your sister or best friend.
With those ideas, you can easily find what you need for the party and make it a success. Just remember that the most important thing is to have fun with your friends and don't forget to dance the night away!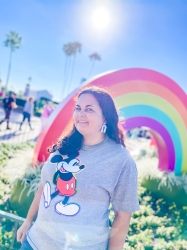 Latest posts by Krystal | Sunny Sweet Days
(see all)