A Guide To Protect Planet When Traveling
Tips For Eco-friendly Travel
Is the urge to travel increasing in your heart day by day? Are you feeling like breaking the doors and flying high? We all are going through the same feeling. So why not plan a trip that fulfills your travel desire, plus you can experience a new way of traveling. Wondering what it is? Well, it's an eco-friendly trip.
Sounds interesting? Suppose you are planning a trip to Asheville from Raleigh and exploring the treasures found in the great outdoors. Now, this city offers you an opportunity to embrace the beauty of nature. So why not take care of the city and learn some tips on how eco-friendly travel is possible.
The first thing to plan is to choose a way of transportation.
So how are you planning to reach the city? Through the road or air? If you are thinking of taking a flight, then we would recommend you to do it ASAP. Otherwise, last-minute tickets can cause you more money. Similarly, search in advance about car parking options near airports. For example: if you are traveling to Asheville from Raleigh, explore the best RDU airport parking options online and book in advance. It will save your time and energy.
Now that you are set with how to reach your destination, let's comes on to the ways that can help you in traveling the city in an Eco-friendly way:
Avoid plastic bags
Everyone wants their holiday memories to last for years but imagine 500 years will be too long. Plastic bags take that much time to biodegrade, making sure you utilize reusable shopping bags when exploring the local market.
Pack lightly
Do you know the fact that more carbon emissions are produced by flights when they weigh more? That's the reason every travel blogger recommends you to travel light. Take with you what you need; the planet will be thanking you later for protecting it.
Take public transportation
When you are planning to explore the city, make sure you don't rent a car and create additional carbon emissions. Using public transportation will add travel experience and even will give you the opportunity to communicate with locals.
Stay in a hotel like you stay at home.
Wondering what it is? Well, to be at home in a hotel means to use the hotel's electricity, water, and other items as you use it at your home. How?
Avoid taking long showers and save water
Turn off the TV when not watching
Switch off the lights and aircon when you leave
Avoid bottled water
A lot of waste is gathered on the planet due to plastic bottles. There are many hotels that have installed water filters for tourists. So that they can fill their water bottles and avoid buying plastic ones.
Stick to the path
When hiking, ensure that you maintain a safe distance on mountains from animal encounters. Stay on marked trails so that you don't get diverted and lost. Going off the track can hamper your protection, and you can even endanger the plants.
Wrapping up
There will not be a single person who doesn't like to take a break from monotonous life and travel. But when you do it in an eco-friendly way, you will get a totally different feeling. It is an appreciable step if you opt for this option.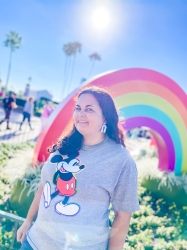 Latest posts by Krystal | Sunny Sweet Days
(see all)