8 No-Makeup Makeup Look Beauty Hacks with 3CE
Flaunting your natural beauty can be very flattering. The ever-changing beauty trends started from altering every part of your face you never liked up to embracing your natural, bare beauty. A world without beauty products can be dull and boring. Witnessing how makeup products transform our overall look is as magical as it gets. Those moments make it hard for us to imagine living our life without these precious products.
The no-makeup makeup look is a trend that does not make sense at all. Applying makeup on to achieve a look without makeup on can mess with your brain if you keep thinking about it. One thing is for sure, we love and appreciate makeup products, but what is the point of this look? 
To make it easier, it is a makeup look that can enhance your natural beauty. Koreans and their beauty trends are the ones that popularized this look. You will not need tons of makeup products to achieve this look. We prepared a list of beauty tips and tricks, along with Korean make up products from 3CE that can help you ace your no-makeup makeup look. Let's start!
Prioritize your skincare routine.
Establishing a strong skincare regimen that you consistently do every single day will greatly improve your skin health and appearance. The no-makeup makeup look is overly-dependent on the quality of your skin as it aims to show your natural beauty. However, there are skin issues that can be difficult to resolve, and that's okay! Finding the right skincare products and routine should do the trick.
Drop your foundation.
Yes, foundations are good and you can use them if you are really comfortable with it. However, we would recommend you to use BB creams, CC creams, or tinted moisturizers. These creams are usually infused with benefits for the skin and offer enough coverage that would still look natural. You should give 3CE's Back to Baby BB Cream that can provide you healthy and glowing skin. If you prefer a moisturizing cream, you may use Milk White Cream. It is a moisturizing cream that also brightens the skin. However, too much of this cream can make your face really white.
Don't be afraid to conceal.
Not everyone was born with flawless skin. Concealing dark circles and blemishes will help you nail your no-makeup makeup look. Although it is not necessary, conceal if you need to. We recommend you to try Cover Pot Concealer. It is a handy concealer available in 4 colors that can also act as a color corrector. It is also made with tea tree leaf extracts and Centella to nourish the skin.
Always pick shades close to your skin tone.
Keep your skin looking natural by using shades close to your skin tone. Especially when using eyeshadows, your look would easily be ruined if use the wrong shade. Check out Mood Recipe Multi Eye Color Palette – #Smoother. It is made with earthy shades that are easy to wear and apply.
Don't forget your blush!
Blush will give your look a natural glow. To ace your blush application, think of yourself after working out and use your natural flush as a guide. With this, your blush will look more natural than ever. You should consider trying 3CE's Mood Recipe Face Blush. The shades available can easily compliment most skin tones and it is also easy to apply.
Make your skin shine with a highlighter.
Highlighting can make your favorite feature more prominent without being too obvious. It could also provide your look a different glow. With a no-makeup makeup look, you should choose a highlighter that provides a subtle shimmer. We recommend you to try Glow Beam Highlighter if you want a pearl-like shine. Its formula also comes with sebum control powder for a long-lasting effect.
Give your eyebrows attention.
Eyebrows are an important part of the face that needs attention. While some people are blessed with naturally thick eyebrows, there are some that got unlucky. Fortunately, there are brow pencils and mascara to save the day. Check out Super Slim Eye Brow Pencil. It is made with a smudge-free formula and sebum powder content to keep it on all day long.
Always finish your look with a lip tint.
As much as we love lipsticks, it just won't sit right with this look. It is better for lip tints or tinted lip balms because it can deliver a more natural look. Don't miss 3CE's Heart Pot Lip. It comes in a handy heart-shaped pot that contains a formula that can keep the lips nourished. You can also choose from five colors that will suit your lips best.
We hope you nail your no-makeup makeup look with these beauty hacks! Let us know if this mini-guide worked for you!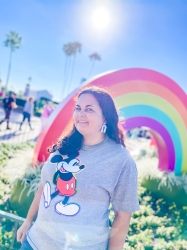 Latest posts by Krystal | Sunny Sweet Days
(see all)