5 Ways Your Family Can Maintain a Healthy Diet This Winter
Most of us eat more healthily in the warmer months. When it's hot outdoors we crave water, and very refreshing and hydrating foods, like watermelon, citrus fruits, and salads. When we're hot, we don't always feel as hungry, and we're less likely to reach for rich, comforting meals and snacks. As soon as the weather turns, we start to eat more filling and fattier meals that warm us up. Over Christmas, our families are also more likely to overindulge on treats. While there's nothing wrong with this, eating a healthy diet in cold weather can help your family to avoid winter bugs and colds. Here are some tips to help your family to maintain a healthy diet in the winter months. 
Keep Warm
We're more likely to reach for comforting treats or to overeat large, heavy meals when we are cold. We use food to warm up and to bring ourselves comfort. If you are warm, happy and healthy, it's easier to eat in moderation and to stop when you are full. Make sure your home stays warm, and that your family put jumpers on if they are cold.
Enjoy Healthy, Warming Foods
Warming foods don't have to be fatty or unhealthy. Spicy food can be very warming and healthy, and things like soup are porridge will warm you up while boosting your energy levels.
Enjoy Treats in Moderation
Over the festive period, there are bound to be treats that you want to enjoy, especially for your children. These are a big part of the season and shouldn't be avoided. But try to enjoy them in moderation, or as part of your usual meals, instead of between-meal snacks.
Eat and Cook as a Family
Eating as a family is great. It's a wonderful way to make sure you always spend a little time every day together, away from other distractions. This time together can be harder to find if you have a blended family, or you foster with help from orangegrovefostercare.co.uk. But it's always important.
As well as having quality time together, families that eat together, preferably around a table, are more likely to enjoy a healthy diet. Children that enjoy family meals are less likely to be fussy, more likely to try new things, and less likely to develop unhealthy eating habits and relationships with food.
As your children get older, cooking together can be equally beneficial. Start with simple things like homemade pizzas and pasta dishes and use the time to teach your children skills in the kitchen but also about nutrition and the importance of a well-balanced diet.
Prioritise Immune Boosting Foods
Some foods are great ways to give your immune system a boost. Things like oranges and other citrus foods, almonds, garlic, and root vegetables can all help to keep your family healthy in winter.
In winter a diet rich in vitamins and minerals can help your family to avoid colds and other bugs, boost their energy levels and help them to enjoy the season and all the treats that it brings. A healthy diet can also boost circulation and mood, and even help you to all stay warm.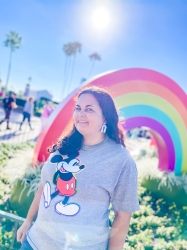 Latest posts by Krystal | Sunny Sweet Days
(see all)